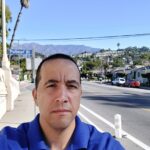 I am sitting in the living room of my buddy Nick's apartment in Pasadena as my laundry finishes drying and I gear up for the final leg of the J-L "Who The Fu*k Books Your Gigs?" 2022 Tour.  I leave tomorrow on Greyhound for Las Vegas where I will attempt to quickly gamble away all the money I have made on this run of shows so far and then will go see David Copperfield to see if he can make an agent appear for me (I hear he is great, but I don't think he's that great).  Then on Thursday it is off to Salt Lake City for Jazz vs Warriors on Wednesday, J-L Vs Audiences (Thursday at WiseGuys) and Jazz vs Magic on Friday.  But this blog is not about where I am going, but where I have been so lets run through the Los Angeles adventures now!
Con Bus
On Thursday I made my way back to Los Angeles from a successful and fun night in San Jose at the Improv. I arrived at the bus/train station to get my Amtrak bus (yes, you read the correctly) to San Luis Obispo to catch the Pacific Surfliner back to LA.  A friend had said I could get on his show at the Hollywood Improv if I got there by 11 and my train was scheduled to arrive at Union Station in LA at 955pm. But first I would have to survive the bus ride portion to San Luis Obispo.
Apparently three guys, just released from prison, were dropped off in San Jose to make their way down to LA.  As I would learn on the bus ride down, one had done 6.5 years for meth and assault, one had done 15 months for something and one guy, who just wanted to be left alone from the hyper rants of meth/assault guy simply said at one point, "I don't steal; I kill" (the philosophy behind my stand up comedy, and also made me feel safe leaving my belongings on the bus during a rest stop).  Halfway through the bus ride, 15 months came up to me and said, "Hello sir, we have a bet back there – are you a cop?"  I said no, because it is true, but I also would have said no if I was until backup arrived.
I got to SLO safe and then hopped on the Pacific Surfliner. I was the only one in business class… which was two of the train cars.  I felt like a real VIP.  It is an absolutely gorgeous trip, especially since at this time of year, the train runs along the Pacific for about 90 minutes right at sundown.
Warm Up Shows and Magic
Nick picked me up at Union Station and we made our way to the Hollywood Improv. When we arrived there happened to be a parking spot right in front and as we emerged from the car I could feel that collective "who are they? Should we know them?" turns from the crowd waiting to get in. I saw a large crowd outside and thought, "Wow, my name really carries some weight" until I was told that Kevin Hart, star of credit card commercials, was in the main room. I would be performing in the lab, the nice side room of the Improv.  Eventually I went on in front of a small, but nice audience and got some good jokes in, though I felt that mocking Joe Rogan made them a little uncomfortable ("what if one day he wants to make me a star???").
During the days I hit the gym just to let these L.A. types know that just because I am smarter and more talented than them, doesn't mean I am willing to cede the ground of superficial bullsh*t either bro!
On Friday night I went to see Nick perform magic at the renowned Magic Castle. I felt a lot of pride watching Nick do his thing because for a long time he had mentioned the Comedy Castle, but I did not know what it was and simply kept saying "next trip." But my last time in LA he explained that it was an exclusive, well known club where great magicians work and I said, "well next time I will come!"  That was in 2016, so a little longer than expected to make my Magic Castle debut, but I did and saw him work his skills and crack people up.  I think I felt pride, but it might have been the strong, complimentary drinks Nick was serving. Either way, good times!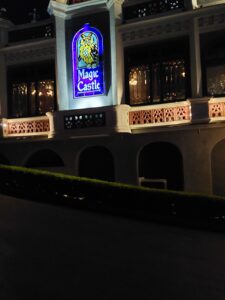 Later that night we went to a place on Melrose for a stand up show run by comedian Matt Taylor, someone I knew from way back in NYC in my early days as a comedian before Matt moved to LA (second NY comedy transplant named Matt to put me up – another Matt friend (Ritter) ran the the Thursday show.  I went up last on the show and murdered the fu*k out of that room. Great crowd, greater comedian (working memoir title).
Sunday Stress-day
On Saturday I had my first L.A. power lunch with a columnist from The Hollywood Reporter at the SoHo House (He could not attend Sunday's show so unlike my usual fans who do nothing to make up for their neglect, he took me to a swanky ass restaurant to talk about the most baffling thing in all of comedy: my career.).  After another night at the Magic Castle on Saturday night, I woke up and made my way to the closest English-speaking Catholic Church near Nick. When I went up to receive the Eucharist I did something I have never done in my 35 years as a Body of Christ receiver: I dropped it.  As a giant stranger in a Church full of diminutive Latino people and few white holdovers I felt looks of people that said "what demon-monster has entered our sanctuary?"  I got another wafer and then made my way out of Church.  To make up for my violation of the Body of Christ I went back to the South Pas gym to work on the Body of Cauvin.
For dinner I met a friend/associate who had worked on a few things with me over the pandemic. We ate some BBQ down the block from Flappers and then I walked the fateful 2 blocks to Flappers where I would perform.  My heart was racing and I had the chills.  It is probably not good for me that I always make shows into life and death events, but the silver lining is that usually helps me deliver good performances.  And on that note…
The show was an absolute masterpiece (seriously – I know it's douchey to say that I guess, but it really was).  The fans coming out were phenomenal and as a special treat I was finally able to consummate my pandemic Twitter friendship with Richard Marx with a hug and profuse thanks for his generous support of my Internet nonsense the last couple of years.  For those of you who are fans and still reading this, if you listen to the last 2 (short) episodes of Righteous Pk Podcast you will hear that there were some unforeseen technical issues with Half Blackface (my special filmed in October in one miracle take) so delivering an A+ show was necessary for my ego and mindset, if for no other reason.
So now that my laundry is done it is time to pack up for my bus to Vegas tomorrow.  Thank you everyone who came out to see me. You are the best part of this business!  As proof, for everyone who said I never smiled in my LA photos (hard with this Sun in my face!) here's a pic of me and Batman after Sunday's show