This weekend, the fifth working weekend for me in six weeks, making me feel almost as successful a comedian as Ted Cruz is a presidential candidate, found me in Glens Falls, NY. Interesting thing about Glens Falls, NY – it is where the Class ZZZZZZZZZZZZZZZZZZZZZ high school basketball championships are held each year. Had my high school basketball team won 1 or  2 more games post season of my senior year we would have played there. Alas, my team sort of sucked (we set a then NYC private school record with 2.5 black players on our team, but unless you are in the 1940s, having half a dozen Jewish kids on your hoops team, especially in the 1990s, is a recipe for mediocrity (insert angry Anti-Defamation league comment about how good the Israeli national team is)), so my trip to Glens Falls would have to wait 19 years.  But if this blog post teaches you anything it is that if you work hard, pursue your dream at the expense of social, emotional and financial well-being, you too can complete your high school dream of performing at the Glens Falls Civic Center in upstate NY. #Blessed #Grinding
The trip began with me taking the PATH train to Hoboken, NJ to meet my ride to Glens Falls. Unfortunately I learned upon arrival that it was Hoboken St Patrick's Day – a day when Hoboken honors the legacy of Saint Patrick, who was apparently an Irish-American date rapist from Hoboken.  This is always a mess and at 1pm there were lines 60 deep at all three bars within view of the PATH train.  Everyone was wearing green and it looked like a Donald Trump rally – 99.9% white with a few black dudes I felt sorry for.  After observing this for about 25 minutes Dan, the booker and emcee for the show picked me up and we headed to Glens Falls.
The drive was a solid 3:45 with a couple of breaks for snacks and bathrooms.  When we got to Glens Falls I saw my name on the electronic billboard outside, which was a thrill.  As we walked into the Civic Center I saw the hockey arena, where teams play and large acts (like the country singer I had never heard of on the billboard after me) play and then we walked down a stairwell to the banquet rooms where I saw where I would be performing.  With about 2.5 hours to spare I sat in the next banquet room and wrote my next sketch (debuting next week – Trump Penile Enlargement University) and then watched the Jazz game on my computer (Glens Falls Civic Center – A WIFI HOTSPOT – way to go upstate NY).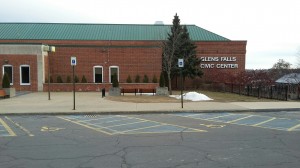 As I took the stage (I would have video clips but there was no spotlight so I appear shrouded in darkness in the video) I saw that there were three black people and about forty-seven white people. At least 5 men were wearing camouflage.  I was heckled a few times, mostly in the happy/supportive way, but disruptive nonetheless.  But overall, the show went well and I even sold two CDs, to one guy who appeared like he got lost on his way to a Brooklyn vinyl record coffee shop, but decided to stay in town and be their link to what is popular this decade.  He bought two (different albums). The rest of the people told me I had talent and asked me repeatedly if my father was black. Pretty much par for the course for my comedy career.
The drive back was pretty uneventful though I did arrive at the PATH station to literally see the train pull away (half hour wait at that time of night).  I was reassured upon arrival in Hoboken to pass several cop cars at different times going to different locations and then saw an ambulance outside another bar near the PATH.  St Patrick would be proud.  But not as proud as he would be of me for finally making it to Glens Falls, NY.
For more opinions, comedy and bridge burning check out the Righteous Prick Podcast on iTunes and/or STITCHER. New Every Tuesday so subscribe for free!