This weekend I was in Timonium, Maryland performing at Magooby's Comedy Club.  I had performed a couple of weekends at the club's older space a few years ago, but had not been booked since.  But then I worked a weekend in Syracuse a couple of months ago with the brother of Magooby's owner, killed it and got him to vouch for me to work Magooby's (side note – this is why for the rest of the year I am putting together a "Working With Relatives of Comedy Club Owners" tour).  But like all my comedy recap stories, the comedy club is just one player in an ensemble of experiences over the course of three days.  So here it is:
On Friday I arrived in Baltimore and then proceeded another hour via light rail and bus to Cockeysville, Maryland where my hotel, The Ramada Limited, was situated.  The first thing that bothered me was that the place was listed as a hotel, but had the motel-esque feature of all rooms accessible from the street (the lobby was just its own kiosk and not an entryway for access to any of the rooms).  In addition to that was the fact that within 2 blocks of the Ramada Limited (the Limited stands for your chances of success in life if you have to stay there) there was a Chick Fil-A, a Five Guys, an IHOP and a Dunkin Donuts.  The message from Cockeysville was simple: if a drifter looking for a quick score doesn't kick in your door and murder you, the food options will do it to you.
The first bad omen on the trip was when I checked in to the ho/motel I was sent to one room that had not been cleaned. I came back and was sent to another room. That one had not been cleaned either (I could see the dead hooker's body through the window).  Finally I got a third room that was clean. #Blessed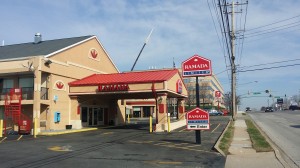 FRIDAY SHOWS
Friday night's shows were interesting.  The first crowd was dead for the emcee.  Now sometimes I can see an emcee doing poorly and say either "crowd is not warm yet or the emcee sucks."  But in this case there were some solid jokes that were not even registering with the crowd.  My set had some good laughs and plenty of almost inexplicable dead spots (like language barrier level dead spots).  Here is how I basically ended my first set:
"Well, this was fun, though it was more like a TED talk than a stand up set."
Crowd – nothing
"Oh Christ, I did it again – you guys probably don't know what a TED talk is!  Now my set is turning into an Inception of references you don't get – like layers of things you have never heard of on top of each other."
Crowd – nothing
"Oh, Inception. Sorry – this tiny movie that made like $300 million a couple of years ago.  I referenced two movies in this set – Avatar and Inception and you'd think I mentioned some obscure foreign film." 
See a lot of politicians say things like "The American people are smarter than that…" to discredit opponent's positions.  And many comedians focus on being likable or pandering.  To quote Danny Glover, "I'm getting too old for this sh*t."  I understand if someone like Dennis Miller can throw people off with all his references, but if an analogy to Avatar or Inception in a joke doesn't register (when it registers laughs 98% of the time) then yes, crowd, it is you.  So I will treat you with disdain and condescension (even more than usual).   I have never watched a TED talk, but I know what the fu*k they are!  As another example unrelated to my jokes, I have never watched Citizen Kane from start to finish, but I wouldn't stare like a vegetable if someone made a broad reference to it.  But maybe the crowd was just tired from a long work week. Or stupid. Or both.
The second show went much better Friday and I sold a couple of CDs.  It was a hard earned split.
SATURDAY SHOWS
Saturday's shows were both solid.  The first show was probably my favorite crowd. I celebrated with a couple of gin and tonics and a burger (important note for a later part of this story – the last thing I ate until 8pm Sunday was the burger at about 1030pm) and then Rob Maher and Joe Robinson of the Rob and Joe Show arrived at the club.  They run a very good podcast and we communicate often on social media, but it was good to hang out in person.  Of course I woke up today to see that I had fallen 10 spots on the Stitcher Comedy Podcast Rankings, which I think is directly attributable to my association with them this weekend.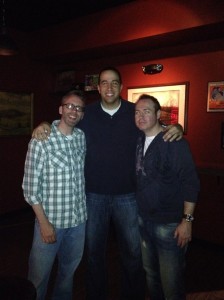 The second show was probably only the third best set of the week for me (nothing was going to be worse than the first Friday show unless someone shot me while on stage) but I felt like I ended the weekend with a 3-1 record.  However, the most eventful part of the weekend was just getting started…
SUNDAY FUN DAY!
I could not sleep well Saturday night. I was getting up at 8am anyway to begin my journey on the Maryland bus system to get to Baltimore Penn Station, but what should have been 6 hours of relatively satisfied sleep was about 2 hours of crappy sleep.  My stomach was feeling a little queasy so I decided to skip the "executive continental breakfast," as the Ramada Limited called it, and went to the bus.
During the 80 total minutes I was on the different buses I started to get progressively more tired and queasy feeling, though travelling through several neighborhoods in Baltimore I could not help but smile thinking about The Wire because everyone had the physique and accent of Prop Joe (and half the characters on The Wire – either the white-ish Baltimore accent of saying words like "Coach" as "Cauch" or the one I heard much more common, the blacker Baltimore accent of saying words like "two" as "tseu" (I hope that is clear and if it is not, I blame you)).
By the time I reached Baltimore Penn Station I was sweating profusely and my stomach was reacting like I had just chugged a gallon of Mexican tap water.  As I result I ending up spending so much time in a Baltimore Penn Station bathroom I nearly qualified for adverse possession.  Feeling better and barely making a train I had been 50 minutes early for I sat down in my seat and started to feel a different kind of queasy coming on.  Not to mention the sweating got worse to the point that it might have been making fellow travelers uncomfortable.  I went to the snack car to have a water and a Gatorade and to get a little more space.  About 25 minutes into that I had the sudden urge to vomit. So I shuffled my way to the bathroom (by this time my back was hurting and all my muscles felt weak) and let forth a furious puke fest.  Now I was just left with back pain and a headache, but my stomach was much better.  I then went back to my seat to see someone sitting in it (to be fair it was a crowded train and I had been gone for an hour) and my backpack missing.  Turns out someone had seen a sweaty dude with thick eyebrows leave a backpack and told the conductor!  I could finally cross "be suspected of being a terrorist"  off of my bucket list.  To show how out of it I was, the conductor had walked right by me with my backpack – as it was at the table right next to where I had been semi-comatose in the cafe car.
So there it is folks – comedy, hostility, illness and terror threat – just another weekend in comedy.
For more opinions, comedy and bridge burning check out the Righteous Prick Podcast on Podomatic, iTunes and NOW on STITCHER. New Every Tuesday so subscribe on one or more platforms today – all for free!