This weekend the third season of House of Cards went up on Netflix (subscribe to my podcast here for tomorrow's debate/discussion over the show) and like many Americans I went to extreme lengths to finish the series before work on Monday.  Positioned in my favorite chair (dubbed by former podcast guest Brian McGuinness as the "Throne of Hate"), wearing XXL Depends to limit bathroom breaks, armed with various snacks and with numbers for diners and my Seamless account logged in for quick orders of food I was prepared to marinate in Kevin Spacey's atrocious accent, as well as my own filth.  But feasting on multiple rounds of diner food and burgers over two days could not match the emotional disgust I felt after watching 13 hours of one television show in two days.  By early afternoon on Sunday when I was done I felt like I needed to introduce myself to my neighbors like a convicted sex offender I felt so morally bankrupt.
Just like CNN reporting on Lindsey Lohan or Kim Kardashian, binge watching is another example of society and media giving us what we seemingly want, while having no regard for what is in our best interests.   And perhaps with no addiction to anything conventional like alcohol or drugs, services like Netflix and Amazon Prime have tapped into the most destructive of all addictions that plague many Americans: sitting on your ass doing nothing.  And just like the gun control debate, only more important, something needs to be done about the easy access to entire seasons of shows before we destroy our nation.
Now there are times when a Netflix or Prime binge can feel less dirty, even at times like a noble endeavor.  People catching up on Breaking Bad, which was exceptional and one of the driving forces in linking binge watching and popularizing shows, was like our generation's Neil Armstrong on the Moon moment.  No longer did missing a show leave you out of the cool kids' table.  Netflix allowed people to catch up on the show in anticipation of upcoming seasons and then, in many cases, provide the late comers with the confidence to act like they were the first to discover the show.  These Christopher Columbus-like frauds should have been the first warning sign that binge watching might have an ugly side.  But I, like many, ignored it.  I mean during two weeks off from work in February I managed to devour 9 seasons of It's Always Sunny in Philadelphia and then began proselytizing about it like a born again Christian.   Granted each season was only, on average 3.5 hours of actual viewing, but I managed to catch up to the current season and had a strange and pathetic sense of accomplishment.  But this is just another step on the slippery road of binge watching hell.
The binge watching phenomenon to catch up to shows would have been bad enough, but once Netflix, and shortly thereafter Amazon discovered that people liked binge watching old shows/seasons a new depth of depravity was formed.  Because what is better than binge watching old shows?  Introducing new shows that could be binged of course.  The feeding of America's television gluttony became a step too far.  It was like a restaurant saying – hey all of our customers enjoy our chocolate frosting cake, so now, for dessert we will offer them a 4 pound bowl of frosting for them to eat with their hands.  Sure that sounds amazing as I sip a soy protein smoothie this morning trying to purge the House of Cards weekend of trans fat from my system, but it is too much.  In addition to augmenting the grossness of an already sedentary and obese nation, it is not even a good way to watch television.  I love the show Alpha House on Amazon Prime.  Ten 30 minute episodes per season it goes by in a breeze (and is a far superior show to House of Cards for any political junkies reading this).  It is a good comedy and I barely remember any of it.  That is because each time the seasons went up (there have been two) I have been able to crush them in a single weekend (and still make it outside to breathe fresh air and have unhealthy food picked up by me instead of delivered).  But that then leaves 50-60 weeks in between viewings during which time the show's details both humorous and plot related are squeezed from memory.  Most likely to make room for 6-12 other shows that have been binge watched.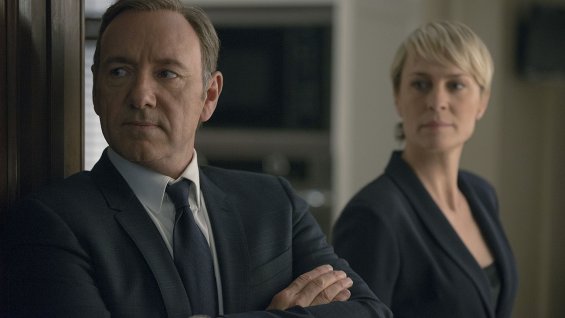 House of Cards suffers the same sort of fate as do many of these shows.  Instead of racing to catch up and join a discussion – at least an idea tangentially related to joining a community, it becomes a race to finish the season as if it were a contest and not entertainment (I am fully hiding behind "I needed to be done for my podcast" as my excuse).  The irony of racing through streaming television diminishing our actual ability to run a race is not lost on me.  So in an effort to make myself a healthier individual and more appreciative of entertainment I have already cancelled my Netflix account (at least for a couple of months).  So I have it through March 5th. Which is just enough time to finish the remaining 8 episodes of the Starz' violent video game/gay porn-posing-as-a-television series Spartacus.
For more opinions, comedy and bridge burning check out the Righteous Prick Podcast on iTunes and/or STITCHER. New Every Tuesday so subscribe for free!