The most frustrating thing of the last month or so has been constant accusations of stealing my impression of Donald Trump. For the record, I have been impersonating Donald Trump since 2015 and my current crop of Twitter videos were started March 11th of this year. On April 23rd comedian Sarah Cooper began posting her lip sync videos of Trump and to her credit, the world seems  to have redefined what the default assumption of what an impression is. Now instead of people being impressed with my impression many assume mine is also a lip sync (which is a compliment to its accuracy and plausibility, except when it comes with "stop stealing from Sarah" and the occasional, incorrect comment about my race, almost always from a progressive white woman, desperately guarding their new cyber connection to a black woman and viewing my work as an attack on her (once again – I was first, it's an impression, not a lip sync and I am half-Haitian, half-Irish).  But to be fair a conservative sent me a private racist message because he thought I was Mexican.
I never understood why so many got money making opportunities off of Trump during his first term and I couldn't, but to blow up on the strength of my impression and then have the very definition of impression changed on me is a level of #JLJinx I could not have seen coming.  But as a 17 year stand up comedian (June 2, 2003 being my first open mic), with hundreds of sketch and stand up videos, dozens of impressions and 8 albums (6 stand up and 2 as Trump) I would rather someone consume that content and then assess and compare what level of comedian I am.   So here are some albums, impressions and sketches that I think will make you a real fan of mine (though if you are reading my blog perhaps I am already preaching to the choir) because when Trump is done I want and need real comedy fans in my corner to have the career that has eluded me for 17 years.  The sooner I get out of the developing nation that is "Trump comedy" the better I think we will all be (but to be clear I am, or at least should be, the dictator running that nation 🙂 )
The Two Albums to Judge Me By: Keep My Enemies Closer (2013), Thots & Prayers (2018 – double album)
You can stream or buy these albums anywhere you listen to music.  They are my two best and I think each should have made me a headliner. Neither did, but the best way to judge if you want to come see me do stand up when the pandemic passes is to listen to these.  I have 6 in total and stand by all as quality works that also provide a sort of chronology of my life if you listen to them in order, but I know asking you to buy or listen to six stand up albums is probably a tall order (but feel free to do so).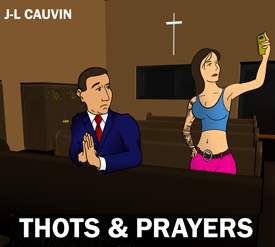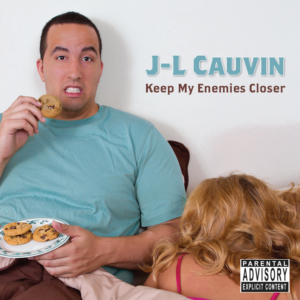 The 10 Sketches of Mine That You Should Watch
These sketches are all written by me and feature me in some capacity, many as impressions. So watch, enjoy and share your favorite(s).
Biggie (2013) – a spoof on the Movie Big
Joel Osteen's Early Sermon (2015)
Adam Carolla Show with Trump, Bernie and Matt Achity (2016) – my Carolla impression got me on the Adam Carolla Show as a repeat guest – the Trump was still in its infancy and many of you will not know that the Matt Achity is strong – Carolla Show fans the most likely to get this one to its core
This is Trump (2018) – my Trump centered parody of This Is Us (yes it is a Trump sketch, but more as a sample of parody writing of a popular show)
Ken Burns Comedy pt 1 (2015) – As a fan of Ken Burns' documentaries I decided to do a 2 part series on stand up comedy as a send up of both comedy and Ken Burns.  Trumpet, JB Smoove and narration by me.
Booty (2011) – a send up of the Kardashian Craze
The Punisher at Home (Jon Bernthal) ep 1 (2018) – An impression a lot of people like from me, just need Bernthal to become a certified A-lister so I can capitalize
Adam Sandler and Tyler Perry Make a Movie Together (2014)
If Bad Boy TV Heroes Were Black (2014) – the most relevant sketch I made that sadly stays relevant
Tout Bagay: A Half-Haitian Comedy Saga (2018) – a sample of my stand up that tells about my upbringing. The main part is not on any album, but this should entice you to check out the albums I hope
So if you made it through some or all of this thank you and hopefully you will continue to check out my stand up albums and my many other videos.  When Trump is done there will be more and more content for you to still laugh at and hopefully fewer annoying comparisons and comments.