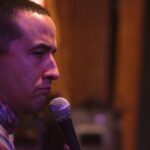 Growing up my favorite priest at my local Church was Father Murphy.  Father Murphy was a pretty hard-lined priest, but he was also a riveting speaker and someone that made me feel prouder to be Catholic after one of his homilies.  I have often told people the feeling I got from his speaking must have been akin to the feeling than some get from lives in military service (a life style as difficult for me to imagine for myself as it might be for an atheist reading this to associate with being a Catholic) – a call to sacrifice and to make personal decisions for a greater good.  Though I am sure Father Murphy was/is a political conservative, he never made me think in political terms. Rather, he amplified the value and righteousness of my personal life decisions.
The reason I bring that up is that beyond Church, the other thing in my life that has given me the same sense of purposefulness has been stand up comedy.  I do not beat my chest and try to use "I am a comedian and therefore a First Amendment hero," but I have found stand up comedy a sanctuary to express and/or escape some of the worst things in my mind and in my life.  And in return for that I have tried to not censor myself when I believe in material, never steal material and always put humor as the primary point (though not ignoring the meaning and power of words, I do not want to be a comedian that ever pursues "clapter," something I have seen on both sides of the political aisle in comedy – more to come on that later – at the cost of laughter). This is my way of respecting the freedom that stand up comedy has given me.  So for most of my career I tried to produce stand up comedy and videos at a headliner pace while only operating on a funny first, consequences second standard and adhering to that.  In keeping with an overall honest approach, I also spent a lot of spare time in my career critiquing and calling out bad business practices in stand up, highlighting comedy I thought was overrated and seething over comedians who seemed to always forget the good fortune in their self-proclaimed Horatio Alger tales of comedy success (these were the blogs, not the material on stage or in videos). These did not help me advance I am sure, but I have always embraced an all encompassing honesty when it comes to comedy – with the freedom to do comedy comes a responsibility to be honest about it, if that makes sense.  Probably stupid, but quixotically consistent.
But the one thing I never did was declare some comedy "not allowed."  I might not like it, but I never believed in limiting comedians' ability to take risks and fail.  The only time I ever did that was when Michael Richards went on a tirade of N words directed at Black audience members.  Although it took place on a comedy stage it was about as artistic as John Wilkes Booth shooting Lincoln at a theater.  But other than that I have taken a very broad – "if you don't like it, don't listen to it/watch it" stance on stand up and comedy in general.  Not to say you cannot have an opinion, but the bar for "cancelling" in comedy for me is skyscraper high. I know it is a cliche by now, but stand up is worked out in public – the art needs people to fail to advance.  And to be completely honest, I often hate when I see comedians being provocative for the sake of being provocative and then hiding behind this same rationale, but perhaps that is the price we have to pay to have stand up. The same way free speech protects hate speech, comedy speech protects provocative-for-the-sake-of-being-provocative speech.
I should also point out that as the Internet has expanded money making opportunities for comedians it has also expanded the viewership and listenership far beyond the comedy club attending audience.  I have scolded comedians for not expecting that thorn to accompany their rose of booming profits.  And on this point I may be somewhat hypocritical because recently as my social media following has blossomed so have condemnations of some of my jokes.  And I hate it.
It feels like there are two types of Progressive comedy fans. The type that leave a $10 tip in the tip jar and walk out and the type that wait 20 extra minutes until someone sees them put their $10 in the tip jar and then walk out (OK, there are definitely more than just these two but go with it for the analogy).  The thing they are doing is good, but for the latter the real reward is being recognized for doing the right thing.  It feels that way with some of the people who have become my fans on Twitter.  They like that I am making fun of the President, but do not like it when any group that is not rich, white, powerful men get mocked. As I have joked before, as a 6'7″ genius I really have no choice but to punch down with my humor.  But the reflexive push back from people is absurd. Take this recent tweet: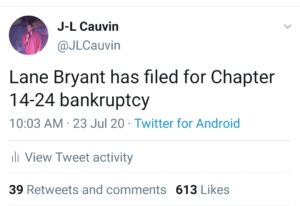 Many people informed me that I should take this tweet down and that fat shaming was wrong.  I told several of them that their comedy opinions were so misinformed that they should definitely not be trusted on what is good comedy.  And I wrote this joke with the intention of avoiding controversy – my rule is, if I could sell it to Jay Leno then it is probably harmless.  And yet the trigger words came out and told me that it was mean and not funny.  In other words, any mention of Lane Bryant in a joke violates some newly created rule of comedy. Here is another that got people upset:
Many people were offended by this one.  I had seen these four mayors on CNN together and thought, wow those names all sound like they belong in a superhero movie or a porn parody of a superhero movie.  All of the women are Black, but other than the name Keisha, in a color blind guessing game, I would have guessed that London Breed was the white daughter of a hipster celebrity couple in Brooklyn, that Lori Lightfoot was a white woman and possibly in an upcoming sequel to The Incredibles and that Muriel Bowser was the grandmother of the Mario Brothers character.  And if Keisha Lance Bottoms were Ken Lance Bottoms then I would have been only the 40,000th comedian to reference porn.  But the Twitter comedy police were not having it.  I was informed that mocking the names of Black women is a harmful stereotype and that I said porn because they were all women.  Others gave me the "jeesh maybe this would sound better at a club, but not here" type comments.
Perhaps it is because I am half-Black, or more likely because I am not an insecure person trying to constantly prove their racial awareness bona fides, but if these jokes are not OK then what these heroes without a cause are really saying is that "certain topics cannot be talked about ever."  Another good example from one of my last live shows in 2019 – I did a joke about all the white, male serial killers getting documentaries and I asked "it's 2019 – are there no serial killers of color?  No trans serial killers?"  A woman came up to me after the show very complimentary but told me "trans people have it very hard and I think you should leave them out."  It was as if she thought trans people were the subject of the joke, when actually the subject of the joke were people who come up to comedians after shows and tell them that the mere mention of trans people should be off limits.  For the sake of being consistent, I know these are criticisms and I said that criticism is OK, but laced along these criticisms is a desire to wall off certain topics to make it easier to appear more righteous, when it is really just cowardice and laziness.
Perhaps I am overly sensitive and after all this is only Twitter, but right now YouTube and Twitter are the only two ways for me to really perform.  In 2018 I listened to The New Yorker podcast proclaim that Hannah Gadsby, a month before Nanette aired, would change comedy (I now know this was probably as much the input of a publicist as it was the opinion of The New Yorker podcast host). In my head I thought "what does The New Yorker (a magazine I like to read, but not take stand up cues from) know about comedy?"  And then they were right!  And I wondered – is this an aberration or a trend?  Is The New Yorker the new stand uptaste maker?
This year I have seen things I never thought possible in comedy, one of which is my relative success.  But I have also seen politically motivated, left wing social media dictate comedy in those spaces.  I am no doubt a beneficiary of that, but what has alarmed me is how humorless (and entitled) many of these people appear to be when the comedy (and comedian) does not align perfectly with their personal and political aspirations.  People who have accused me of comedy theft clearly are ignorant and may have never attended a comedy club, but I cannot dismiss them entirely because this is the platform we have for the foreseeable future.  I do my best to post other jokes (see above for sources of criticism) and encourage folks to check out my vast library of videos and albums that are neither political, nor Trump related in an effort to cultivate the portion of my fan base that likes stand up comedy.  But the the desire is far less for that work.  On top of that, for too many "comedy fans" on social media, their support becomes about affirming themselves.  I told someone recently that my comedy can make some progressives laugh, but I don't make progressives feel good about themselves, which appears to be the ultimate aim for many of them.  And I could ignore them because they won't ever go to a show of mine anyway (if those ever happen again).  But when they start assessing me as a person or telling me what to do with jokes ("take this down now!" "This is wrong!" "No!" "I thought you were funny but now I see you are an asshole!") I would rather call them out and ask them to leave my virtual comedy club.  In fact, I don't even think they like comedy. They like affirmation and wrapping it in comedy seems cooler or more fun, but when stripped of the "me" the rest of comedy is just Cody and they don't know him.
As a quick example of why this is not just a one-sided issue, though it appears more prevalent on the left, I wrote this after attending a Dave Chappelle show a year ago. He did jokes on a 2015 or 2016 special on trans people that offended many.  In all honesty I thought they were hilarious. I am not saying they were not offensive, but they were also grounded completely in humor.  However, after the backlash he went through, in the show I saw live he decided to make a tortured metaphor between his usage of the N word and his usage of a homophobic slur. The response was not laughter because there was no joke. Instead there was head nodding and "clapter," normally only found at a very progressive comedy show, but found in abundance at the Chappelle show I saw.  Chappelle is free to share his thoughts how he chooses and I simply didn't like that bit, but the crowd's reaction was sort of a mirror image of the cancel progressives. They were clapping at a crude analogy because it was affirming their desire to say the F word without condemnation, not because it was a great joke.  Is that so much different than someone wanting to cancel an artist for an offensive joke, no matter how funny?
Now, as I have navigated the last 4 months of my life and all of its successes and frustrations I have been given kindhearted advice from friends, associates and even a couple of celebrities to ignore haters, not comment on other people and keep my eye on the prize.  But right now the prize still just remains offering content from my apartment. And despite my writing, videos and impressions I am first and foremost a stand up comedian.  And no matter what level my career was at, I approached it in the funniest, but also most honest to myself way that I could. And if becoming successful as a comedian requires suppressing that which made me an excellent comedian then I must circle back to a quote from Father Murphy. When I was in high school he ended one of his homilies pondering, what if people who say religion and the Church are false are correct. And he said "If it is false, then damn it all."