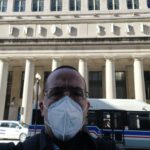 I am sitting in Chicago's Union Station (the Amtrak Metropolitan Lounge to be more specific) racing to write this before my train gets called.  This first leg of my whistle-please-stop doing comedy tour in Chicago is complete and now it is on to leg two – the Southwest Chief, which is Amtrak's daily train from Chicago to Los Angeles, with stops at many cities, including Las Vegas,… New Mexico?  I did not know there was a Las Vegas, New Mexico, but I hope it is known as Virtue City.  I am taking Amtrak and Greyhound this entire trip because after 2 years of largely working 2 jobs in my apartment, I wanted built-in relaxation where I could not do anything besides look out a window, read or watch a show, even if I wanted to.  So let's see if I can type the Chicago portion quickly before getting on the train!
Capitol Limited
On Tuesday I made my way to Washington, DC to catch the Capitol Limited – their DC to Chicago train.  I had been upgraded to a full bedroom (from a "roomette," which is French for "too small for a giant"  – spoiler I am taking a roomette to LA) and settled in.  I watched the entire season of Hawkeye on Disney+ (solid) and made it halfway through the first of four books I packed, David Frum's Trumpocracy (an autographed gift from the author) and ate some decent meals courtesy of my my excellent train car attendant , who looked like an extra from Dances with Wolves, but sounded like Hank Azaria in The Birdcage.  The train was actually running ahead of time (I slept about 4.5 hours during the night) when we left Toledo but due to train traffic and mechanical difficulties on other trains we got to Chicago 2 hours late. THANKS BIDEN!
When I got to Chicago I hopped in a Lyft to Schaumburg, IL where the Chicago Improv is located.  It was my first time back at the Chicago Improv since 2010. That year, one year into my "I don't need another job after being laid off because I am going to make it in comedy," I went to audition for feature work at the club. The pay for the spot was $50, which slightly exceeded my $100 hotel and $405 Jet Blue round trip flight.  I was passed that night to feature at the club… as I joked once "I will end up headlining clubs before they ever feature me." Prescient and pessimistic. Prescimistic!  (trademarking that since it is basically my brand).
I arrived at my Hampton Inn at 1145am, but as people who have seen my stand up recently, the Hampton Inn has really been the hospitality hero of my comedy career.  They let me check in at 1145am, which was a nice help since the Chicago temperature was a balmy 0 when I arrived.  If I ever get big enough to sign with a hotel chain it will be Hampton Inn.
Now my show was not until Thursday night so I had time to do my favorite road activity: legal work in my hotel room.  I got to town early by a day for a few reasons – so I had a day to feel acclimated and fresh and also because a social media friend that I made during the pandemic was a local TV personality and had told me to let him know if I got a gig in Chicago. This was no BS offer – the guy had me on via zoom twice in 2020 and was just very kind and supportive – he looked LA, but clearly had solid midwestern values.  Well, as the JL Jinx would have it, after 10 years on air the show had been canceled.
Now the night before I left for Chicago I received an email that my tickets sales in LA for February 6th were not good, so as often happens to me when alone, negativity snowballs and I began to ask myself "what the fu*k am I doing?" And with that joyous thought I fell asleep.
Street Walker
A common complaint I have had throughout my travels in America is, "why aren't there more sidewalks?"  No wonder we are a fat country!  Well, Schaumburg has sidewalks… but they were all buried under a mound of snow. So to walk for lunch or a coffee on Thursday I found myself walking on the edge of quasi-highways, looking like a drifter. I never got hit by a car, but one person yelled at me "Run Forrest Run" as I trotted past traffic, which did not make me feel optimistic for the comedy sensibilities of the people of Chicago suburbs. Really?  Run Forrest Run is the best you've got?
After a meal at PF Chang's (I like to lean on my eastern philosophy and training before a stressful show) I made my way into the Chicago Improv.  An absolute beauty of a club. Seriously, if you live in Chicago and did not go to my show (like the woman (Fan?) who had a lengthy conversation with me on IG about where I should have eaten lunch and then wished me luck on my show… maybe I can just seat 50 Zagat's guides at my next show, in lieu of humans) you should go to the Improv.
The emcee and feature both did well and then I got on stage in front of a respectable crowd and proceeded to do a very self-indulgent 80 minutes.  To be honest I have never gone quasi-hoarse on stage and that is when I knew I had done too much. That said, most of the set was pretty damn killer and already have developed some new bits that make me want to plan for another album at the end of the year.  The audience was really great and after the show meeting the fans was really great.  I know a lot of people have said things like "you got me through the pandemic" and other such nice statements, but after being so stressed and bummed about so many things related to my career, including in the last 48 hours, meeting the fans after the show was maybe the first time ever (no offense to all other great fans in other cities) that it really lifted my spirits.  Not sure if it was because there were many people who I had many interactions with on social media, or if they were at the right show at the right time to pick me up or if it was nice that so many people had specific comments about bits they liked, but whatever the reason (the real reason may have been that they bought more merch than any other crowd in the last year) it made me feel damn good!  So to the fans and friends who came out in Chicago – thank you!  Be warned though, once this all turns south in 6 days or 6 months I will probably blame you for making me want to keep at it.
Bam!  Finished – time to get on this 40 hour train (2nd David Frum book and season 1 of Raised By Wolves on HBO Max is this leg of the trip's content). Follow my YouTube and Instagram for more train adventures. See you in California!