When I heard that a new installment of the John Wick film franchise was coming out I was excited.  Wick represented a throwback ideal of a man – husband (albeit he left his job to please his wife – no one is perfect), feared by criminals and impeccably dressed (sorry, no sweat pants for your stay at home zoom "job"). He killed with ruthless efficiency and set a high standard for justice: kill my puppy and I will kill everyone.  Needless to say John Wick was not taking time out to go protest the 2nd Amendment with David Hogg!
So last week I lined up all three Wick films for a great retrospective before the 4th chapter's release this week (in Joe Biden's world of gun control, paternity leave and pronouns – it felt like nothing was more needed than the Wick movies).  But as I rewatched the films I realized that the John Wick films were actually a progressive trojan horse.  John Wick was actually John WOKE.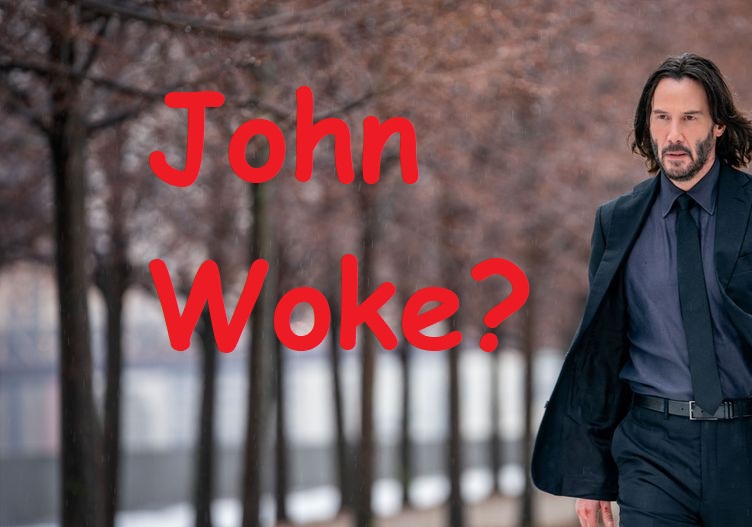 In the first film, Wick attacks exclusively white criminals (they appear to be Russian, so I guess double points on the globalist, woke scorecard).  Of course he is friends with a few people in the criminal world – Latino Mike Birbiglia John Leguizamo and the late Lance Reddick, the concierge of the assassin hotel.  He did have a white friend, played by Willem Dafoe, but the John Woke screenwriters obviously saw fit to have him killed.  Wick eventually avenges his deceased puppy leaving a lot of dead white people.
But I did enjoy the first one and since I am the last person to engage in cancel culture, perhaps this was just one plot line.  But as I re-watched John Wick 2 I saw a clearer pattern emerging.  Wick is forced to repay a debt to an Italian criminal (so apparently honoring a contract is a bad thing when a white man asks you to do so!) and in attempting to do so is attacked by a Black criminal… who Wick allows to live.  The actor's name may be Common, but needless to say, this was a very uncommon fate for killers who cross John Wick.  When Wick needs assistance in the film he gets it from a homeless Black man, played by Lawrence Fishbourne. So instead of perhaps cleaning up the homelessness problem in Democrat run NYC, Wick empowers this man to wreak more havoc on a once great city.
Well then we get to John Wick 3: Parabellum, which might as swell mean "all out war against traditional values."  Wick is now being hunted by all assassins because he violated the terms of service at the Continental.  There white people go again – wanting contracts to be honored. For a contract killer, John Woke seems to have a major problem with… contracts.  In John Wick 3, Wick makes it to northern Africa where he of course will finally have to kill some killers of color.  But he is aided in that pursuit by Halle Berry, a Black woman, who, in the Leftist hierarchy is the most discriminated against person so, by the John Woke transitive property, is entitled to kill men of color, as they are part of the patriarchy. So John Woke gets a pass via Halle Berry and comes back to America to fight a gang of Asian assassins.
In other words, John Woke is now able to murder lots of minorities, as long as they are over-represented minorities.  And boy does Wick go off!  He takes out so many Asians I thought he was Bill DeBlasio trying to stop them from getting into selective high schools!  And orchestrating a lot of the enemies against John Woke was a non-binary actor, known primarily for their work on Billions, a show I know something about.  Does the non-binary actor get murdered by John Wick?  Of course not – John Wick may have killed 1000 assassins, but if you have a plural pronoun you are off limits.  And when it is time to finally defeat the evil Italian gangster, Wick is given aid by the aforementioned Reddick, who needless to say survives the gun battle.  Do you see it yet?
So as I reflected on this deceptive legacy that the Wick films represent, I have opted to skip John Wick 4.  I can actually appreciate films like Schindler's List, 12 Years a Slave and Roots who at least when they shove wokeness down your throat, they do it openly. What the John Wick franchise has done is far more devious. They have taken a beta cuck and wrapped him in the blood and garments of an alpha male and sold us the lie with popcorn.  John Woke?  I'd rather take a nap!