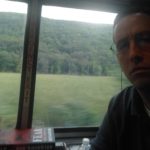 This weekend I performed in St Paul, MN at the Joke Joint Comedy Club, which recently had to relocate to a new space in downtown St Paul inside of Camp Bar. It was part of the 1 city, 3 show tour I managed to put together to promote next week's release of my new double stand-up album Thots & Prayers.  Although I will obviously get into the humorous and sad details of the trip, the most notable thing about it was the fact that I travelled a total of 62 hours for two nights of shows in Minnesota.  That is because I decided to take Amtrak both ways.  As I explained to the crowds in St Paul, to be still doing comedy after 15 years despite it being detrimental to my physical, emotional and spiritual health when it clearly is not going to lead to any financial stability, let alone something approaching success, requires a core of delusional optimism that only historical figures and the mentally ill possess. And because I believe with Dr. Ford certainty and Brett Kavanaugh intensity that the album is a masterpiece I felt a heightened fear of flying this week.  I already hate flying and like the train, but about 10% of my brain was saying "If you comedy career has been consistent it is in the tragic irony department – whether it is Patrice O'Neal demonstrating some affinity for working with me only a few months before his eventually fatal stroke or developing the best Trump impression in comedy while seeing everyone but me get paid for it, it is clear that comedy has turned me from Mozart to Salieri.  And the icing on the cake would be dying right before the album comes out.  Yes, I am aware that this sounds Trump-Kanye levels of insane, but if you have wasted 15 years of your life pursuing a career that God and country seemed destined to impede then how nuts is it to take it one more level to comedy martyrdom?  Well, as I write this recap I am halfway through Pennsylvania in a rush to make it home, shower, walk my dog who will no doubt greet me with the apathy that makes me think I should have named her Industry instead of Cookie and rush to Newark, New Jersey to see Bruno Mars.  So here is the recap:
Long Train Runnin' – NYC to St Paul
I got on the Lake Shore Limited from NYC to Chicago on Wednesday afternoon.  I had a roomette, which after finishing Tom Wolfe's The Right Stuff, felt like a moderately spacious space pod – two chairs that come together to form a 6'3″ bed (I am 6'7″), a panel of light and climate controls and a toilet right next to your chair/bed (like be careful to not splatter close or else you might be a turn on for Trump).  As cramped as it may appear, a space like this goes for $1350/month in Manhattan.
The train was 2.5 hours late getting into Chicago, which I did not mind because it allowed me to read half of Bob Woodward's Trump book (I would finish it two days later and found it fairly underwhelming in its prose – fuller review on my podcast tomorrow). I also watched quite a bit of Senate hearings about Brett Kavanaugh thanks to surprisingly improved Amtrak WiFi service.  I then had a 2 hour wait before getting on the Empire Builder train, which is the Amtrak from Chicago to Seattle. I arrived at 10pm Thursday night in St Paul (my portion of the Empire Builder was a manageable 8 hours) and headed to the downtown Doubletree where I got my cookie and took 4 showers to get the smell of cross country obese feet out of my skin (like a coal mine or a Subway restaurant, long distance Amtrak's signature scent seeps into your skin).
Friday
The club manager picked me up at 1pm Friday to take me to the club hotel (I used my free night via hotels.com for the early arrival hotel – always helps when you have subsidies for your paranoia about flying).  Now the Doubletree was downtown – a 10 minute walk from the train station and about an equal distance from the club.  Well, the Best Western Plus (which was the old hotel the club used when it was located in the burbs) was now about 30 miles from the club and train station.  Fortunately my schedule of reading in the corner of a Starbucks can be done from any location, which is all I did until showtime.
The emcee, Andy, picked me up and we got to the club about 10 minutes before showtime.  The audience was fairly light, but I assured the manager that my fan would arrive on Saturday (if you think I am joking – my one fan in St Paul did show up, but with his wife so I will count that as two fans – like the French language I consider the man determinative).  I sold one album Friday after what I thought was a pretty good set (and thanks to my Milli Vanilli bit, the floor manager closed the show with Baby Don't Forget My Number), which I promptly spent on Wendy's after the show.
As a bonus the feature, David, brought gigantic cookies from a local bakery to the show:
Saturday
When I woke up Saturday it was under 40 degrees so rather than exercise I went and read at Starbucks. Also, had it been 80 and sunny I would have just read at Starbucks.  There were two shows Saturday night. The first had a nice crowd and I sold one album. So basically 38 CDs of mine simply went on a vacation from my apartment and will be back home in a few hours.  Below is one of the non-album, timely bits I did for the early crowd about the upcoming film  A Star is Born:
The late show had about 16 people.  And I thought to myself, "This deserves to be my final show."  They were nice people and decent laughers for such a small crowd, but when the goal is a career and you are 15 years operating at hobby level of success it is important not to forget that if divided into 2 teams, your audience would not have sufficient numbers to play a baseball game.
Long Train Runnin' pt 2 – St Paul to NYC
After a refreshing 4 hours of sleep Saturday night I got a Lyft to the train station (the aforementioned Andy (emcee) was nice enough to set his alarm and see if I was able to get a cab) and got on the Empire Builder back to Chicago. I had some pancakes in the dining car and did some lounging in the lounge car (as you can see there was a very Earthy looking guy in the car (turns out he was a poet – how has that profession survived?).
We got to Chicago 20 minutes early so I had 2 hours to kill so I walked around downtown Chicago looking for something to eat, but all I was able to get was Subway (most things were closed) and the apathetic young sandwich artist didn't even heat the chicken enough.  Clearly a Modern Sandwich Artist.
I then got on the Capitol Limited, which goes from Chicago to DC.  That train was 5 minutes early and was a great ride (I got another sleeper roomette where I began ripping through The Dirt, the biography by Motely Crue – unquestionably a brilliant (since it works) structure for a biography (each band member writing different chapters as their story progresses through an unthinkable amount of drugs, sex and violence).  However, quite uncomfortable when the band's bass player basically admits to rape (letting other people have sex in a dark closet with a woman who believes she is having sex with him).  I feel like the entire music industry could be shut down by #MeToo, except we seem to have grandfathered rock music to be exempt from it.  Now hip hop, which has never been as bad as Motley Crue somehow seemed more problematic to America (thinking emoji). Anyway more on that on tomorrow's podcast as well.  If the train is good for anything it is great reading time.
I got off the Capitol Limited in Pittsburgh at 5am to transfer to the Pennsylvanian which runs from Pittsburgh to NYC. I tried to get on an express greyhound at 630 am (the Pennsylvanian did not leave til 7:30 and takes longer), but the Greyhound was sold out – which is richly symbolic: the only thing that sold out for me this weekend was a Greyhound bus – if my career were to continue it is good that I can set a new goal of trying to be as successful at comedy as Greyhound is at bus operation.
So now I'm 2.5 hours from NYC and then I will have to hurry up and get ready for the Bruno Mars concert.  Amtrak Funk gonna give it to ya!