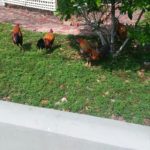 "Orlando is like a city stripping its way through college.  Tampa is like a city turning tricks so it can save up for clear heels and get a job stripping." – J-L Cauvin
This week's fresh installment of RCR is of my trip to Tampa.  I am currently working on 3 hours of sleep since I took a 5:50am flight from Tampa to LaGuardia (I always thought 6 am flights were the first of the day), so hopefully I don't forget any good details or make any egregious grammatical errors.  So let's just get into it.
Wednesday – Southwest to the Southeast
Tuesday at work, while taking a break from working I noticed that Southwest was trending.  Assuming one of their flight attendants did not book a 3 comedy special deal with Netflix this did not seem like a good thing.  As we all know that was because the Southwest flight from LaGuardia to Dallas endured basically the nightmare scenario of anyone who fears flying – engine blows up, passenger sucked out of the plane (to be saved by some heroic people, though the woman died later) and landing in Philly – basically the unholy Trinity.  This had special significance to me because I would be flying Southwest to Tampa less than a day later (as it turns out from the same gate as the ill-fated Dallas flight) so I was even more anxious than I normally am before a flight.
Well, I had nothing to worry about as the flight from NYC to Tampa went smoothly.  I was headlining that Wednesday night in Tampa and it makes me bring up that age old question: If a comedian headlines, but no one shows up for it, did it really happen?  Well, for about 28 people it did happen and it was a very mundane experience. There were some laughs, some botched jokes (full disclosure – I had not been on stage in a month) and zero albums sold after the show.  However, after the show I went to Buffalo Wild Wings across the street and watched the conclusion of Game 2 of the Jazz-Thunder series.  Here is a photo from the watch party/meet n greet I did:
The most entertaining and uncomfortable moment of the night was walking the 8 minutes from BWW to the comedy condo (a pretty solid condo, by comedy club standards – though the C word that offends most comedians, including myself is "condo" when it comes to road work).  The area around the club is Ybor City area of Tampa – a place where chickens roam the streets (I averaged crossing paths with 35 chickens a day) and the ambiance feels like Bourbon Street in New Orleans minus the jazz and culture and with more tattoos and meth.  On my walk back I encountered 2 black bikers (after all that white people have stolen from black people I never understand why some black dudes choose skateboarding or motorcycles as their areas of reverse cultural appropriation), a homelss black man arguing with a white garbage pail drummer, a whacked out chick randomly dancing with 2 dudes and then for finale – I was yelled at and followed for a block by a meth head with a mustache ("Methstache") as he ripped leaves off of a tree near the comedy condo.  All in all it was a memorable and weird intro to the Tampa area and exactly what I expect for a place with 19 tattoo parlors in a 4 block area.
Thursday: The Barber from Atlanta Arrives
Starting Thursday I was opening for Robert Powell, a comedian who just had a star making turn on Atlanta on FX.  He played Paperboy's barber and his career is about to blow up big time.  He encouraged the emcee and I to stay at it because all it takes is that one shot.  I nodded, even though in my head I was saying "Nope."  But allow me to discuss more of my surroundings.
I found a coffee shop with NYC prices, just so I wouldn't feel like I was saving money. The Blind Tiger was near the condo and was basically what a hipster coffee shop would be if it were rebelling against all other hipster coffee shops to prove that it, in fact, was the rightful Cis-King of hipster coffee in Ybor City.  I had a cup of black coffee every morning and finished reading the recently crowned Pulitzer Prize winning book Locking Up Our Own so that they knew I was Hoke ("Hipster Woke").
I also spent some time sun bathing (#TanBae) at my condo pool where I saw the most plentiful of Tampa's native creatures – the 50+ year old woman with a tramp stamp and fake breasts. Basically the neighbors of the condo that went to the pool felt like the creators of a YouPorn channel that doesn't get a ton of hits.
The show went well on Thursday.  Headliner did well ,but so did the emcee who had me laughing all week. I had an expected strong set. Not much of note on that front. Besides you don't read this to hear how well I did anyway!  But here are two new stand up bits I am very happy with from the weekend:
Friday – I Feel Pretty
On Friday I went to see Amy Schumer's new movie I Feel Pretty.  I laughed some and thought Schumer and co-star Rory Scovel actually gave good performances and had good chemistry. I thought the movie was worth a rental (or a movie pass), but I may never know how much I enjoyed it because of the women in the theater with me. Here is what I wrote on Instagram after the movie:
Watching the new Schumer movie. 3 white trash women wouldn't stop talking for the first 15 minutes. There was also a loud black woman a few rows behind them who was also yelling support for Amy Schumer at the screen. So the Trashdashian trio invited the black boom box to join them and now they are just a quartet of nonstop chattering barefoot jerks who won't stop talking (1 hour nonstop). Also telling, they keep repeating every laugh line, except every Dave Attel line got silence. #Floridumb #Tampa
The first show went really well on Friday. The second show (the dreaded Friday late show – where everyone who is tired from a week of work, but whose couples' therapist has insisted that they make time for each other with date nights, shows up to half-nap before beginning their weekend) was just OK (and of course that was the one where a couple of fans showed up #CauvinsLaw).
Saturday – Take it to Church… at Church
Saturday, after another early afternoon of sunbathing with the Florida Project cast again I headed to the vigil Mass at Our Lady of Perpetual Help (which almost made me laugh thinking of the Leslie Nielson line from The Naked Gun when he said Nordberg was at "Our Lady of the Worthless Miracle)."  If you have ever discussed religion with me you will know that I am a regular Mass attendee and that part of the reason I go to Mass regularly is because I hope to regain the strength of my feelings that I had when I was younger.  There is still a core made up of guilt and faith that keeps me going each week, but often it does not feel as it once did.  Pardon me for having a genuine moment here, but it did occur on the road so it goes in the RCR.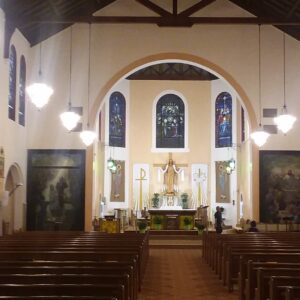 The Church was really nice, the temperature perfect and the lighting welcoming.  Often when I go to Church I find it psychologically soothing, even if not always spiritually.  And then the Church singer started singing.  Oddly enough, whenever someone refers to a "voice from God" they are almost always referring to a popular singer, but this dude singing in a 70% empty church had a voice from God. I have been going to Mass since probably the age of 5 or 6 and I literally cannot remember being so moved by Catholic Mass hymns. The man was sort of a nerdy looking Latin man (so I thought, further research has indicated he may be Filipino – FIRST THE GUY IN JOURNEY AND NOW THIS?!). Khakis, tucked in polo, short, quasi-Dad bod. But every song he sang, almost all familiar to me, were sung to perfection.  I felt like Nick Nolte in Blue Chips when he goes into a small gym in Louisiana and discovers Shaq dunking all over grown men (#ALGIERS!). Maybe I was still stressed about flying, or having increasingly frequent doubts about why I am still pursuing comedy with my life, or maybe the guy was just that good, but whatever the factor or factors it was a rejuvenating experience.  And the closing hymn was How Great Thou Art and it was comically brilliant. Like so good I started laughing at the end because I knew he couldn't help himself and he finished with a flourish that almost felt more appropriate for the Met than for a lightly attended Mass in Tampa (And then instinctively I yelled "PRIDE COMETH BEFORE THE FALL!" just to keep him level-headed).  The Church, including myself, clapped for him when he was done.  I heard often as a youth that "singing is like praying twice" in Church. I am pretty sure that is because they just want people to sing. But this man in Tampa literally boosted my spirit in a way I have not felt in years… which is going to make next Sunday's Mass at my midtown Church awfully disappointing when the off-key organ playing lady does her thing.
I thought to myself after the Mass that the guy should have a recording contract or something, but at the same time I thought maybe part of the purity and soulfulness comes from the fact that he is singing for faith and for God and not for some material purpose.  Then I went with a bag full of albums to the Improv and said "Spirituality isn't paying my cable bill LORT!"
The first show was outstanding. Full house, great set and zero albums sold.  And just like that I was back in a funk.  To boot, a black guy came up to me, not mean-spirited, but still annoyingly and said "I'm Haitian. When you said you were Haitian I was like 'bullshit!.'" And that was our exchange.  This happens to me often.  I don't use my half black-ness as some excuse to say the N word or use it as cover for jokes. I offer it simply to tell autobiographical material, nothing more, nothing less.  The flip side of this was what happened after the second show.
The second show went well and I ended up selling a decent number of albums. One was to a young white couple.  The drunk woman said to me "you were the guy pretending to be black, right?" And then later her boyfriend repeated a sentiment that his girlfriend had stated earlier – that I "had a lot of guts" doing comedy in front of an almost all black crowd.  I was not sure which way to be more offended – racially or as a comedian, but it was also the type of ignorant stuff I get from time to time where it is not necessarily mean spirited, but I also don't feel like having a discussion about it with people that I will know for a total of 8 minutes at most.
More people bought albums, including a guy who had a huge wad of $100s and $50s and gave me a $50 and said keep the change.  His generosity was appreciated, but after the first exchange I could not tell if this was another white guy giving me "respect" for doing my thing in front of a black crowd or if he just really liked my stuff solely on the merits.  Of course he said nothing like what the earlier couple said so there was no reason to think anything but nicely of his generosity, but for the creeping insecurity.
I ended the night watching the 4th quarter of the Utah Jazz beat down of the OKC Thunder in Game 3 of their series.  Ricky Rubio, the Spanish point guard for the Jazz, had a huge night so I tweeted him my respect for how well he played against all those black guys on OKC.
Sunday-Monday
Sunday I had a fan show up (she was visiting her Aunt nearby), so that was nice, but of course because of #CauvinsLaw the crowd was an odd mixture of offended strippers and offended Church goers and the laughs were not as plentiful as I had hoped.  However, lots more people came up to me with compliments after the show than from the other shows so maybe they were just a more subdued crowd. All in all it was an interesting week and an entertaining week, but I still had my Southwest flight the next morning.
I got a cab at 4am to the airport for my 5:50am flight. All you need to know about Tampa is I saw more women wearing 3+ inch heels at the Tampa airport at 5 am than I have seen at any other airport at any time of day. I got on the plane and as we were getting our pre-take off speech from the pilot he informed us that we would be flying at 39,000 feet because there was some weather issues they wanted to try to fly above.  So now, as we leave in the still dark skies of Tampa I am nervously listening to podcasts just wanting to get home safe. About 25 minutes into our flight the Sun starts to illuminate our journey and I see that we are flying right above an endless see of black clouds (think The Nothing from The Neverending Story.  But we never get any real turbulence and arrived slightly early into NYC at 815am.  When I got to baggage claim I saw a weather report on the news that there were tornado issues in the southeast.  I am just glad I did not listen to any weather reports before getting on the plane because if I had the combination of Southwest engine and tornado stories would have me on an Amtrak right now instead of penning this masterpiece.