This weekend was a unique one for road work.  In early July I featured at the Albany Funny Bone and the emcee was a local named Frank Gentile. We had a nice week and went our separate ways, but then I got a message from him on Facebook a month later asking if I wanted to do a one night gig in the Albany area.  I was going to say yes because travel to Albany is cheap from NYC, but before I could say yes, Frank informed me that the gig also paid money and I almost had to reconsider taking the gig since losing money on as many shows as possible has become integral to my brand as a comedian ("The King of All Unpaid Media" (TM)).  I decided to take the gig and then learned it was a private party (Frank actually told me that initially, but I was so distracted by the thought of making money on a show that I didn't read all the details.
When I arrived in Albany off of a packed Amtrak train I was greeted by Frank and we made our way to Clifton Park, NY.  We stopped at Wendy's where I ate a spicy chicken sandwich meal (just like athletes it is important for comedians to give their body the right fuel to generate the proper amount of self-loathing energy before performing).  When we got to the venue I was greeted by what I would refer to as "Wayne Manor" the rest of the evening – a huge home with a Ferrari (or Corvette or some other car that I will never be allowed to touch, let alone own in my life) in the garage, a tent for the party and a deluxe his and hers porta-potty that put most Manhattan studio apartments to shame.  And I would be remiss if I left out the fact that for a party with about 40 guests in the middle of nowhere (NYC bias), the women looked great – proving my theory that money to women is like heat to bugs.  In the middle of upstate NY in a town I have never heard of there were still several attractive women (and there with husbands and boyfriends – so very legit – not imported/rented talent like the Platinum porta potty), which shows wherever there is money – Beverly Hills, Clifton Park, Syria – there will be attractive women.  Much like in the middle of winter if there is one sunny 50 degree day all of a sudden bugs show up with no warning for that day, hot chicks and money are the same – they just show up, even in places where you might only expect morbidly obese people on scooters wheeling around the local Wal-Mart. This is not even suggesting gold digging – it is more like how a plant will lean towards sunlight – it just sort of happens sometimes.  To prove my point, when I mentioned that I was taking Greyhound back to NYC during my set, three of the women in attendance died. This was not intentional – it was just their natural response to being so close to sad economic situations.
The evening was a catered, DJ event – as I joked, the guy who had the party and owned Wayne Manor basically throws small weddings as his regular parties. In fact, since I only have audio of my performance – here are some of my favorite off the cuff remarks from my set:
I will keep my set short as I know you probably have to go fight crime in downtown Albany soon
I assume everyone has their masks for the Eyes Wide Shut sex party inside after my set?  Kids, I suggest you leave before then.
(During Southwest Airlines bit the host clapped) Don't give me a pity clap sir!  We both know you do not fly Southwest.  You probably have a tunnel built in the airport for yourself to avoid the riff raff that flies Southwest
(while his wife stepped away) I bet your wife tries to get mouthy now that she feels comfortable in her big house – like her opinions matter (I then point to the house) Do you just look at her and say THAT'S YOUR OPINION?!
Your Summer party is a wedding level event to regular people.  P Diddy should be taking notes.
The rest was basically just my routine, but what a fun gig!  The audience was great and I crushed the desert trays before and after my set.  The host is basically an auto body shop mogul – a self made business success. He told me he grew up in a trailer and has been working his ass off in the industry for 22 years (the last seven in his own business) and he told me that he thought I would eventually break through in my industry.  It made me sad to inform him that seven years ago I was a six figure attorney so if anything I will be in a trailer by the end of my career, but I still appreciated his kind words and the great party he put on.   But like any gig of mine it had to end on a sour note.  Enter Greyhound.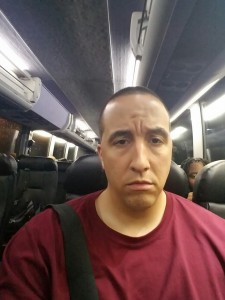 Frank gave me a ride to the Greyhound station, which by Greyhound standards was a Ritz Carlton: various vending machines with snacks people might actually want, a separate cafe and only one homeless man semi-pants-less outside the door.  I was scheduled to board the 11pm bus which was scheduled to arrive at 1:45 at Port Authority – this is what you get when you travel for $17.  To be fair Greyhound has upgraded their seats to leather so now you no longer need a black light to see the body fluid stains.  The bus was 30 minutes late, but I did get a seat to myself. However, all lights on the bus were off the whole time so I could not read (bus driver asked "Does anyone want to read?" and to no one's surprise no one said yes so I didn't want to be the douche with a reading light on so I just listened to my iPod and rubbed my sore knees (from the cramped seating not any Eyes Wide Shut activities at Wayne Manor).
For all of you that were unable to experience the genius that was this show (or were there and want more), I suggest you go to iTunes and get my new stand up album Israeli Tortoise which went #1 this month on iTunes (also available on Amazon and Google)