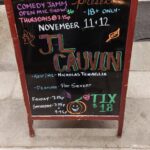 I have written dozens, maybe hundreds of road comedy recaps from my adventures around the country, basically a multi-decade effort to validate focusing my adult life on the pursuit of a career in stand up comedy.  But this weekend felt like both the apex and nadir of that career and these recaps.  It began on Wednesday with my computer crashing and ended with me walking home smelling like The Walking Dead and getting my first good night of sleep in what feels like a decade (literally).  So let's get to it!
Wednesday: What the Fu*k Just Happened to My Computer?!
I woke up Wednesday and went to my computer to send some emails.  And then my computer froze and crashed.  I had planned on using some of my downtime in Michigan to write some sketches and although pen and paper work, they make it very difficult to conform with screenwriting formatting.  I proceeded to curse, panic sweat and complain about my third PC in 3 years to crash (must be all my comedy content and the Bible passage browsing I keep doing). I packed the computer and brought it into the Geek Squad near my office in midtown.  I was helped by a young Geek (good rap name right?) named Jose and he was very helpful (like an old person I had made an appointment for the wrong day and had a look of panic in my eyes and Yung Geek (or El Guique?) explained what he thought the problem was and that he could have my computer back to me by lunch on Thursday, either repaired or diagnosed with a hardware issue, which would then be a manufacturer's warranty issue… which as coincidence would have it was set to expire 4 days later).
Thursday: Race Through The City and the Train to Ann Arbor
On Thursday I woke up, packed for Ann Arbor (my triumphant return to the Ann Arbor Comedy Showcase club after a three year hiatus) and headed into the city an hour earlier than needed to get my computer from midtown.  When I arrived at Geek Squad I was greeted by a Black woman (Jose was not there) and she seemed perplexed by my expectation that my computer would be ready. I assured her that Jose had told me I could have it back fixed, or at least diagnosed, by right now.  She checked the paperwork and confirmed this and then came out and told me the computer had been repaired (YAY) and they just had to complete the repair paperwork.
Now, even though I had 90 minutes until my train for Ann Arbor left and was a mere 15 minutes from The Moynihan Train Station I was nervous because I had left all my belongings in a locker in MTS unlocked.  Even though it is a secure and monitored lounge it still crossed my mind that I could go to Ann Abor with the clothes on my back and my computer and nothing else if a theft occurred.
So as I paced around the Geek Squad area of Best Buy waiting for the Black woman (I wrote a joke in my phone that she might call it Gique S'quad and then deleted it thinking, "don't be a Black name hack!"). The woman arrived with my computer and said I might get a survey (I just gave both employees high marks) and that Jose helped me on Wednesday and that her name was Ideal (immediately retrieved and updated my text joke) when I filled out the survey.  I thought to myself, when you go to Geek Squad to interview (or any job) and your resume says "Ideal" as your name, isn't that the easiest hire of all time?
So I left with my computer and walked to the Times Square Chop't to get a salad. There is a Chop't in MTS, but since it is mostly tourists who have never ordered a $19 salad they often take a long time considering their options while people with salad slicing blades stare at them with NYC brand hostility. I got my salad and made it back to the VIP lounge in MTS and ate my salad awaiting the announcement for train 49 to Chicago.  I made my way to my roomette and had a pleasant evening of reading a Jim Thopre biography and watching The Good Fight as the train made its way to Chicago.
Friday: The Red Roof Inn Plus
When I woke up at 530 am in my roomette I saw that the train was 35 minutes behind schedule into Toledo (where you transfer to the Amtrak bus that services Michigan cities and towns), which gave me enough time to get breakfast on the train (all meals are included for sleeper car passengers, but when the train is on time to Toledo there is not enough time to get breakfast before arrival). So I got in an extra meal and then got on the bus to Michigan around 7am.  I made it to downtown Ann Arbor at 9, but because check in at my hotel was not until 3pm I secured a seat at the college Starbucks (the most nonstop busiest Starbucks I have ever seen) and proceeded to configure my computer, which had to be wiped clean to reinstall the operating system – which feels like a threat the rapper El Gique/Yung Geek would make on a rap track.
At 2 pm I made it to the Red Roof Inn Plus. Rather than write all about it, here is a video from one of my sets this weekend for you to enjoy and learn from:
\
I also saw Ann Arbor's fat squirrels and chronicled them for Twitter: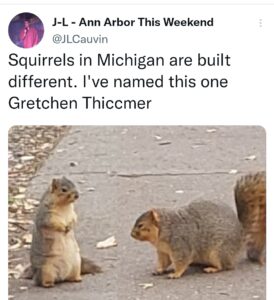 Friday night we had one show and it went well. I hung out after with a fan/friend named Lacee (her heroics will come later in the weekend) and her co-workers, one of whom looked like a progressive, Italian Lauren Boebert, which if you listen to my podcasts lets you know that I was close to changing my state of residency during my second gin and tonic.
I went back to the RRI+ after and got a solid 6 hours sleep, not a small feat considering this is where I was staying:
Saturday: Highway Shoutout, Old Friends & an Oath Keeper?
On Saturday morning I woke up and asked the RRI+ for a late check out (just an hour) because I was leaving town on a 3:15 am Amtrak after Saturday's two shows.  It was granted and then I made my way to the McDonald's a mile away for breakfast. About 5 minutes into my walk a woman in a car exiting the highway yelled "J-L!"  I turned and saw that it was a friend of my sister-in-law's who was supposed to attend my Saturday show.  She pulled over (technically it was her son driving, a friend of my younger nephew) and she told me that because of an illness in her family they were driving to Ohio and would have to miss the show.  Like The Nothing in The Neverending Story wherever my comedy goes, bad things seem to happen.  But before we said goodbye she informed me of a greasy spoon right near where we were talking that I should try over McDonald's. So after she and her son drove away with my well wishes I went to the aforementioned diner and it was delicious.  A+ pancakes. The pancakes were so good I was able to ignore the ten 3 percenters that were sitting right next to me.
I will also say, I wish I had gone to law school at Ann Arbor instead of Georgetown. Not only do I really like Ann Arbor (I like DC as well), but as a large human being who carries himself with the arrogance, but also deteriorating body of a former athlete, I felt a lot of looks like "I wonder if he played for the Wolverines."  And the answer would be yes.
I went back to the Friday Starbucks to read and review the video from Friday's show.  I then went to St Thomas the Apostle for 430pm vigil Mass and walked back to the main strip to meet my childhood friend Ian, his wife and two of their friends for pre-show dinner.
The first show was excellent and as I learned throughout the weekend, Michigan, so far, seems to have the highest percentage of platinum J-L fans. Owners of multiple albums, listeners to at least one of my podcasts and Patreon subscribers. Several people made long drives to make the show and it felt really good.  One fan owned all 8 of my albums and had seen me for the first time almost a decade ago at a different Michigan club.  If I had 25K Lees I would be the happiest comedian on Earth (that's a lie, but I'd be happier. I would simply have to find other reasons to maintain my misery).  The first show ended and then the second show had more diehard fans and a guy that I think may have stormed the Capitol.
The second show started well enough and I was discussing my vaccination status and an older, rugged man kept making comments.  He was not being aggressive and seemed in good cheer so I decided to humor him and simultaneously shut it down. I said "you look like you were at the Capitol on January 6th, but you seem a lot calmer than some of your allies – probably because a lot of them are home alone in their moms' basements, but you have a good looking woman on your arm (Lesson 1 in the J-L disarm a MAGA comedy audience member – be large, Lesson 2 –  make them feel like they're doing cancel culture if they boo you and Lesson 3 – appeal to their traditional sense of masculinity).  He seemed pleased and entertained but did not stop talking.  Then, an audience member, who I must imagine did not get a good look at the man, yelled "Read the room man and shut the fu*k up!"  That made it awkward but Quaker Oath Keeper in front seemed to not be offended. The club manager (a kind, young woman, which I think helped de-escalate) said to him that he would have to stop talking or he would be asked to leave.  To his credit the Ann Arbor Shaman remained quiet for the rest of the show, but he and his lady did not seem too pleased (especially during my bits about roasting Barron Trump and having hypothetical, law school sex with Tiffany Trump).  When he left he shook my hand and looked me in the eye and it was a look that said "Once I accepted Christ I renounced violence. Lucky for you." He had a large neck tattoo, which on a white guy in his 60s is about as strong a warning sign as there is. Like I said, the guy who stood up for me and told him to STFU clearly did not see the man up close.
Sunday – The Extraction
After the show I had some great long chats with big time fans and then Lacee met me after the show knowing I needed to kill time before the 3:15 am train.  So we went near the club for a drink and some appetizers and I began the Lyft watch.
12:15am $95 to Toledo Amtrak
12:45am $156 to Toledo Amtrak
1:10 am $221 to Toledo Amtrak
1:40 am (when leaving) $365 to Toledo Amtrak
So at that point I began to panic and asked Lacee if she could begin driving me toward Toledo (which is at least in the direction of her home) and she did and about 6 minutes out of the downtown area the price was $156 – I immediately selected it and we pulled into a large (closed) shopping center to wait for the Lyft… which never came.  He claimed to be in front of the store, but clearly he wasn't. Lacee's guess was that he actually saw the ride was to Toledo and then pulled some BS (as proof my $5 non-pick up penalty was refunded). So at that point the Lyft price had climbed back to $230 to Toledo so Lacee drove me to the Amtrak. At one point with a 20 minute buffer between our GPS arrival and the train departure I said "GPS says that way" and she said "But the highway entrance is right there (pointing to an entrance 50 yards away)" but that would have involved crossing a double yellow line or some by-the-book GPS nonsense so my GPS led us on an 8 minute time killer through local roads to get us back to the highway Lacee had pointed out.
We arrived at the station in plenty of time (the train would end up delayed 30 minutes anyway) and I thanked Lacee by promising her copious attention and ink in the road recap.  I then got in my roomette and fell asleep on and off for the next 4 hours.  I spent the day reading, watching stuff and finally made it through my door in Bloomfield, NJ at 830pm where I was hugged by my girlfriend despite smelling of a day of Amtrak and licked by Cookie, probably because I smelled like a day of Amtrak.  After a shower I went to bed and had the first uninterrupted 7 hours of sleep I can remember in the last several years.