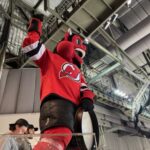 When it comes to hockey I am what a young person might label derisively, a "casual." Or the median hockey fan (white, scruffy, 33 years old, pissed they missed January 6th to contest a date rape accusation) a "fa**ot."  But hockey itself is an incredible sport, for all the athletic skills it requires of the athletes, the thrills of watching it, especially in person, and the great video games the sport almost always produces.  Outside of 1994, when my late uncle was wrapped up in Rangers hysteria (he was a huge fan and the 1994 championship, which broke a 54 year title-less streak, was a major milestone for all in his orbit), and the occasional Olympic game, I had barely paid attention to hockey until my Uncle's passing in 2020.  I think part of that apathy had been augmented by the awful leadership of the NHL (even this "casual" knows that letting your contract with ESPN lapse so you could sign with VS network (WHO?) and then NBC Sports (HUH?) was a bad move, but also the lack of broad media exposure for NHL stars outside of commercials and ads during NHL games), but also growing older and having to prioritize a demeaning comedy career, 805 streaming programs, a day job and the deep frustration of supporting the Utah Jazz, there is only so much Jean-Louis to go around (my uncle always thought that given my size and French name I would have been a great defenseman, despite his occasionally calling me a "Mary.").
But since my Uncle's passing, which has coincided with a slight uptick in Ranger relevance (perhaps a post mortem connection), I have been paying attention a bit more. Me and the lady went to two games this year (record 1-1) at MSG, but we decided to splurge (me) for playoff tickets in New Jersey.  The series with the Devils was tied 2-2 and given 3 days off I figured perhaps the Rangers would make adjustments to counter the dramatic shift in the series that had the Rangers winning the first two games 5-1 and 5-1 and then only mustering 2 goals total in the next two games (as I would learn, changing goalies was only one factor as the Devils apparently took the Rangers' skills and souls during that turnaround as well).  So I will present to you my day of Game 5 (as I write this we are hours away from Game 6, which I will miss because I have a show in Red Bank – see none of you there if past is prologue), where the Rangers' horrid performance was only the 4th worst thing I saw.
The Last Beautiful Sight of the Day
On my way to New York Penn Station, after a day of law firming, to walk Cookie Cauvin in Bloomfield and get on a train to Newark I saw an Asian man who almost made me stop in my tracks.  To be clear, I am straight, but this man was the most beautiful Asian I have seen in person since my college girlfriend (and she was only half – we met at a mixed race mixer – no we didn't – sorry I forget that many of my comedy fans do not get comedy).  This dude was about 6'3″ in very casual clothing but he looked like someone had taken Jason Mamoa and Chris Hemsworth (but with more Olympic swimmer build than bodybuilder), put him in an Asian Google translate filter gave him a more healthy-looking mane of Steve Aoki hair and put him in my path on the way to the train. He was accompanied by a Black woman, because on top of his other worldly presence he was clearly intent on making a Tiger Woods of attractiveness.  I am just assuming he was someone of fame that I was unaware of.  But I realized that this man was put before me by a higher power who knew I needed to see some form of natural beauty because of the man made horrors I was going to observe the rest of the night.
Welcome to The Rock
The Prudential Center is Newark, or "The Rock" as it is referred to in promotional rantings, is home of the NHL's New Jersey Devils, various major concerts and no interior design people (I assure you I am straight).  It feels like a half finished arena in the walkways throughout, though the arena itself is standard pro sports and concert quality.  As we made our way in I felt like Devils' fans gave off a January 5th vibe.  Not quite insurrection, but close enough for me to be sure I knew all the exits.
We lucked out with our seats because our row was mostly older and fairly subdued, relative to the crowd.  The only positive thing that would happen during the game from my perspective was a comedy fan recognized me (and instead of yelling "Trump!" he mentioned the comedy club he saw me at).  So after I walked around the arena feeling like I was at the bar in The Accused an hour before Jodie Foster showed up, I settled into my seat next to the lady and watched the Rangers get absolutely destroyed.  The Devils were faster, their passes crisper, their attack and defense more focused and effective… but other than that the Rangers played great!  With 7 minutes left in the game and a 20 minute walk to the train, the lady and I opted to give up hope that the Rangers would come back from a 3-0 deficit. In fact, as we were leaving the arena the Devils added a 4th goal.
Looking for Batman
As we walked from the arena through a few blocks of downtown Newark (the lines between "up and coming" Newark and "don't go there Newark" felt obvious in an almost parody-like way, at least while we walked the 20 minutes) we saw the following:
An older woman shooting up
A man passed out in the street
4 men getting into a physical fight over, perhaps, bootleg goods. One man had a weapon that sort of looked like a paddle.
2 cop cars about half way to the train (where there seemed to be no more litter or homeless people) guarding a film set
Now when I posted the above observations on Facebook and Twitter my intention was to show what felt like a sadly ironic misallocation of resources that it seems up and coming cities are compelled (or feel compelled) to do in the interest of increasing exposure and tax revenue.  As we approached the train we heard multiple police cars going toward where we had come from (either to help with crime or to be extras in the movie/TV show) so perhaps better late than never.  But I was disappointed by how many people on social media (among my followers) jumped at the opportunity to interpret what I wrote as some callous denigration of urban struggle and crime and pile on.  One person went as far as to tell me, "Now do San Francisco, Chicago and New York" as if I was his replacement for Tucker Carlson in the "please replenish my IV of cherry-picked hate from cities with lots of Black people and/or Democrats."  My point was to simply point out the tragic juxtaposition you can see in cities when they put expensive things (stadiums, film sets) in the middle of struggling communities, but the hardships are not alleviated – it simply makes it look more shameful than it already did before.  But the silver lining is the Rangers were no longer the worst thing I saw in Newark that night.