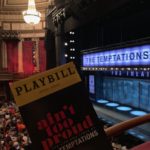 Over the 4th of July weekend I went to see Ain't Too Proud, the 12 time Tony nominated Broadway musical about The Temptations, featuring the music of the Four Tops (spoiler – I'm just kidding – it features the music of The Temptations).  The show is outstanding.  Close to as entertaining as Hamilton (though a big difference is the music of Hamilton is original and when you start your musical with a foundation of one of the greatest groups of all time it's a considerable head start on the way to great show), I was blown away by the depth of talent in the show and gave it an actually earned standing ovation.  If Jersey Boys, a beast in its own right and sort of the forefather of the Ain't Too Proud, is Larry Bird then Ain't Too Proud is Lebron James.  But this post is not about the show, but about the theater.
Aint Too Proud (by the way, apologies if you thought it was a musical about TLC) has its home at the Imperial Theater on West 45th street.  It is one of the many old theaters that seats hobbits comfortably, jockeys tightly and everyone else like processed deli meats.  At least that is what I thought. By way of background I go to about 4-5 Broadway shows  a year and as a theater snob I tend to go for the classics – Harry Potter, SpongeBob, King Kong, Pretty Women, etc. and am always buying aisle seats because in anything but the newest theaters the aisle is the only way for me to sit while allowing for the possibility that I will be able to produce children in the future.  So I purchased two orchestra seats for me and my girlfriend, but when I walked to our seat I noticed something – a child would not be able to fit (FYI I was 5'2″ when I was 8 years old so my idea of children's size may be skewed).  I saw a man who could not be any bigger than 5'8″ with barely any leg room. Then I saw a 6'2″ man walk into our row and he basically looked like me on a middle seat on a flight where I could only afford Delta's "Go fu*k yourself" class of seat. He was wedged in and could not place his feet flat.  So here is me trying to sit in my seat (photo credit: girlfriend):
When I realized that I could not fit in the seat (width would have been tight, but I take responsibility for my cookie and brownie habit. I literally could not fit in my seat without doggystyling the elderly woman in front of me, which would be awkward with my girlfriend right there (#TheaterThreesome).  So we approached our usher and told her "we got it, we got it bad," which she (and many of you probably) did not get. She then called her manager, also a woman (and you tell me we don't need a men's rights movement???) who offered to take me to one of the boxes on the second level. It was awesome. Plenty of leg room and to many of the riff raff in the mezzanine they probably assumed the giant was probably a VIP (Very Impressive Pituitary). It was a partially obstructed view, but that's a small price to look cool and have blood circulating to your lower body.
But then I noticed something before the show started – the premium seats were extra roomy (the new invention since Jersey Boys where center orchestra seats close go for a ton of money). So not only is the view great, but you have lots of extra leg room – leg room that I am pretty sure did not exist 10-15 years ago.  But since these antebellum theaters have not been updated that means the leg room had to come from somewhere and then I realized: the $120 seats (not exactly a small amount) were getting fu*ked to accommodate the elite of the elite (WHERE IS AOC TO LOBBY FOR THE NEEDS OF THE MERELY SUCCESSFUL AGAINST THE CORRUPT ELITES PLUNDERING THEATER REAL ESTATE???). Here is an aerial shot of the offending seats:
Basically Broadway is becoming an airline.  I remember when Southwest used to let me pre-board because I was very tall. They did this so I could get an Emergency Exit row. But then Southwest, which has no business having a "business class" – anyone with a business is on a real airline, and it's sort of a snobby poke at all the working stiffs who built you up (THIS IS WHY TRUMP WILL WIN IN 2020!) – decided to seell off early access for their flights.  Meanwhile, my other preferred airline, Delta, had introduced Comfort Plus, which sounds like my favorite branch of soft core porn, and for a while it was a Godsend.  Tons of extra leg room, free snacks and movies – all for a $100 extra.  But as those seats became more popular they started adding rows of Comfort Plus. And all of a sudden my soft core porn turned into an airline cuck film because I was being fu*ked out of leg room.  After a few years Delta had tripled the amount of Comfort Plus, but since the airplanes (like the theaters) were not getting any bigger or giving up on revenue the extra room had to be squeezed out of existing coach seats AND the room in comfort plus seats. So by my last flight to LA a couple of years ago (career not flame emojis FYI) I had just enough room to not touch the seat in front of me, but had lost a noticeable amount of room.
So congrats Broadway – you are now operating with the same ethical standards and concern for your customers as an airline.  Seriously can someone reach out to Attorney General Tish James to see if there is any limit to how much a theater can shrink seat size?  But from here on out I will be buying the smallest seat possible for Broadway shows and then demanding a box.  But the show was outstanding so cheers to you Ain't Too Proud with a $45 bottle of Ain't Too Proud water (I don't know how much it cost, gf got it for me at intermission so we could keep up appearances that as an A-lister I could not mingle with the common folk at intermission).