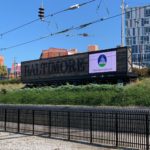 This weekend I took my girlfriend to Baltimore.  If you are part of the racist cult known as MAGA, you might consider this a capital offense, but it was actually a nice weekend that I planned as part of her birthday before Donald Trump lashed out at the city and John Lewis (not to be confused with Jean-Louis, a half black civil rights icon). But I am willing to take coincidental progressive points for pumping tourist dollars into Charm City after Trump's attack.  Having just shelled out a lot of money for a move (and related expenses) next month to New Jersey I was tempted to tell my girlfriend that my birthday present to her was my freedom and the bulk of my checking account, but that might have come off a tad dickish, so when she saw a commercial for a Live/Bush concert and said "Oh I like Live!" (my response of "And I like Bush!" was not met well) I figured that might make for a good present.  Problem was the most convenient concert was in Baltimore's Inner Harbor, so I said to myself "Hey – a two day getaway near the harbor to see the concert, throw in an Orioles game, nice accommodations and the non-poor Amtrak (Accela) and you've got yourself a decent birthday present!" What would follow would be one of the most entertaining trip of my adult life. The sad news I have to report is that Trump may have been partly right about Baltimore… but for completely different reasons than he undoubtedly meant.
Friday – KKKountry Music Knight at Camden Yards and Possibly the Worst Cheesecake Factory in America
We took the noon Accela out of Penn Station and arrived at Baltimore Penn at about 2:30.  There was a line of cabs outside and as someone who appreciates organized labor and detests the libertarian driven gig-economy I hopped in to a yellow cab.  Interestingly enough a millenielle (female millennial (TM)) was telling a cab driver that she was ordering an Uber. This struck me as a decisive victory for apps, cell phone addiction and stupidity. The yellow cab was actually cheaper than an app and though clicking an app may be convenient – how is waiting 4 minutes for a more expensive ride more "convenient" than getting in the cab that is in front of you?
We arrived at our hotel – The Kimpton Monaco, which was a beautiful piece of shit (also how I have described multiple exes). It sounds like a hotel where James Bond would be meeting someone to exchange data files, but beneath the service it was a stunning mediocrity (how some of my exes probably describe me). I wanted to name the blog Kimpton Ain't Easy, but did not after it got two eye rolls from my girlfriend. However, when we arrived we had not yet discovered any of the hotels flaws (it was listed as a 4.5/5 star property on Hotwire – the website for people who are willing to play Russian Roulette with their lives to save significantly on hotel rooms).
After we checked in we headed out to a local restaurant I found through exhaustive research – The Cheesecake Factory.  The exterior of the Factory looked more like what a Cheesecake Factory would look like if described in a Bruce Springsteen song – the exterior looked like shit and the hostesses had the enthusiasm of women whose men folk had been laid off from the Cheesecake Textile Mill.  They said we had to wait 15 minutes and gave me a buzzer. Five minutes later the buzzer buzzed.  So like Pavlov's dessert dog I headed to the hostess who then started to show a trio of people who just walked in (no buzzer) to a table after taking my buzzer. I followed, assuming she was taking us to our table (since we were first by 5 minutes and had a buzzer) and the other hostess, who had just seen me, a 6'7″, 290 lb dude in a purple shirt 5 minutes ago, said "Can I help you?" I then said, in my most Wahlbergian-Departed voice "Yeah, I'm the guy looking for cheesecake – you must be the other guy!"
When we sat down we waited for a while until our waiter, who I would describe as a gay man so stressed I assumed Barbara Streisand and Britney Spears had just died in a murder-suicide.  We never got the Brown Bread before the meal, our order was taken late and he genuinely made us anxious (not for us, but for him).  He also seemed unhappy I did not order the cheesecake he recommended.  Hopefully all is good with him now.
Then it was time for the Baltimore Orioles-Tampa Rays game at beautiful Camden Yards.  I was there in the mid-late 90s with my brother, but this was my first trip back since then.  It really is one of the great stadiums in all of sports.  The Orioles are an abomination though and the stadium was about 85% empty, making my isolated seats (which I eventually moved up from) all the more absurd:
However, it was Country Music Night at Camden, so at least people who love country music and awful baseball would be in attendance. Now there were some black people at the stadium, but I did not realize until the 6th inning that it was White Culture night at the stadium. Players were still coming up to their walk up music, which included MAGA-approved blacks like Kanye, but all the stadium music was country and I kept thinking, "How far South is Baltimore?" But I really let out a laugh when during one inning break they played some country song that featured flat out rap, including the lyric "I'm a shot gun toter, Republican voter…" and I thought – that is classic new Republican – abuse an art form begun and dominated by black people and use it to praise anti-Black-adjacent politics (unless of course I missed the next lyric "With Grant and Lincoln I'm Three's Company like Mr. Roper" and then have the audacity after each rap verse go back to pure country.  Truth be told I am all for a good mash-up, but hearing hip hop hijacked by guys who don't seem like allies feels icky, to say the least.  I probably had the look like Will Ferrell in Old School when he realizes his wedding band is cursing as I listened to this song.
We then went back to the hotel after seeing the Orioles get worked (these kids sitting behind us were really into the game and left an inning before the Orioles hit a home run for their sole run of the game.  I guess he should have listen to Colt Ford's hip hop country masterpiece above, in which he says "Quitters never win" (25% chance quitters is code for the N word).
Saturday – Aquarium, Bush v Live, White Trash and McCormick & Schmucks
Saturday was a packed day. Since it was a birthday trip I decided to spring for an overpriced hotel breakfast, figuring that anyone will the temerity to charge $20 for pancakes and bacon will make a decent set of pancakes. Nope!  Pancakes sucked!  It was like they were missing an ingredient.  After that we headed to the National Aquarium, which felt overpriced and was full of rude kids. Maybe it was because my parents instilled a healthy fear of adults in me as a child I was never one to challenge or be rude to adult strangers. But as my girlfriend and I were waiting in lines, parents would routinely tell their kids to hit whatever hole opened up in viewing spaces of various exhibits, as if we were just offensive linemen opening holes for their shitty kids.  I know it's a small sample size, but on top of climate change, Trump and the Kardashians, parents who want to be cool will be the 4th horseman of the apocalypse.  Teaching your kids to say please, thank you and exhibit some amount of manners doesn't make you a bad parent. It makes you a good one.  I'm this close to pretending that I am a bulked up, just-out-of-prison Jared Fogle just to put some fearful respect into the hearts of these families!
After escaping the Aquarium we went to Pizzeria Uno for lunch (all the Baltimore hot spots) and it was the only meal we had all trip that featured good food and good service. Then it was time for some rest before the main purpose of the trip – Bush and Live.
When we left the hotel that evening we headed to McCormick and Schmicks – a good restaurant with abhorrent service.  The restaurant was about 80% full, but from the servers you would think they were feeding thousands.  The food was good for sure, but I think our waitress was actually a bar tender pressed into service.  Baltimore may be Charm City, but the service industry there appears to be second to all.
After McCormick's we walked to the concert venue, which if Heaven has a trailer park I believe I saw it this weekend.  Let's start with the Baltimore accent (not The Wire version, but the whiter version – which seems to sound like Philadelphia (already one of the worst accents out there) had a one night stand with a trailer park and had a baby). Then the tattoos – as I said on my 2012 album Too Big To Fail – it appears that once American manufacturing dried up and coincided with the rise of reality TV and MMA – America traded in identity and creativity for "expressing themselves" through permanent ink.  And I would guess that that at least 31% of the audience at the show had uploaded a video to YouPorn, which is the same percentage of the women present that I believed had had sex with non-front-men members of the two bands we were there to see.  And as two bonuses, the man in front of us during Bush had body odor so strong that the lady and I had to move elsewhere for Live. And during Live, we were standing behind what appeared to be a Throuple (that's a term that means when a married couple has a third partner who has low self-esteem… unless they live in a wealthier zip code and they suddenly become "enlightened sexual beings"). The man looked like he just missed out on playing the husband on Escape at Dannemora and to be fair his wife was pretty good looking except for a paunch that signified "I am no longer the hot stuff I was in high school and as long as this 'Associates 15' I put on 20 years ago is still here there is enough insecurity to allow a goofy chick in to do the dirty work."  But let's talk about the music, shall we?
Bush was outstanding and even though Live is the billed headliner on this tour, it was clear that Bush was the more dynamic band with the
better hour and the better front man (despite not playing his single from the Richard Gere-Diane Lane romantic drama Nights in Rodanthe).  Gavin Rossdale was an A and so was Bush.  And I am pretty sure 4 women in their late 40s left pregnant after Bush's set.  The bar was set high for Live and boy did they not meet it. That is not to say they were bad. They were very good and I would argue that the night's closing song, Lightning Crashes, was the best song by either band, but the overall catalogue and energy of Bush and the presence of Rossdale (versus the "what if your uncle were a less cool version of Andre Aggasi of Live's Ed Kowalczyk) made it a decisive victory. Plus, in their hour, Live did not one, but two covers. That's a forfeit in my book.  I did plenty of people watching during this and noticed that almost every white man in Baltimore (or at least the white men who come into Maryland for Bush/Live concerts) walks with a mixed look of anger and insecurity (I guess that is the official look of MAGA). It's a look like they just found out that their girlfriend is talking to her ex from high school by the porta-potty.
After the show, which was very enjoyable (and based on the hey day of both bands reminded me of my first workout mix tape), we went back to the hotel, arriving at 11:05pm. I asked the front desk if room service still delivered and he said no.  We then asked if they had vending machines. He said no, but offered the 7-11 three blocks away that we passed on because I believe it is a hotel's responsibility to offer me overpriced snacks and food when it is 11pm on a Saturday.  So we went to bed having had as great a weekend as you can have when coupled with MAGA throuples and terrible overall service almost everywhere you go.
I am not saying Trump was right about Baltimore, but if by calling the city "filthy" he was referencing all the white trash and the menus at McCormick & Schmick's I would be unable to refute him.  But you have to be an asshole to look at this and call it "disgusting":