T

his weekend was one of those rare weekends (62% of all my weekends) when I was not booked to tell jokes for minimal profit.  So I did the next best thing – I brought my comedy skills to a wedding in DC for free (food provided, no room – like most gigs now)!  My friend Ross was getting married to his lady of almost ten years, Anne.  Interesting story – I met Ross in my first and only Improv class (the thinking was I am new to stand up so let me bolster my overall comedy game, includign the comedic arts that people find annoying) in DC when I was just a few months into starting as a stand up comedian. He has been one of my most loyal and valuable supporters/critics of my comedy (for those of you that like my podcast he was like Josh Homer 1.0).  When I left DC in 2004 to be a Bronx ADA, Ross met Anne shortly thereafter, proving that there is no good luck as good as J-L relocating to another part of the country from you #blessed.
I arrived in DC and got a sweet deal at The Melrose Hotel, which was right across the street from McFadden's where I would occasioanlly drink when I was just a DC law student with loads of potential.  The Melrose was super nice, to the point that I think hotwire.com made a mistake with the price they gave me.  My room was spacious and beautiful and came with a section of the US Constitution on the wall, as I usually request when on the road.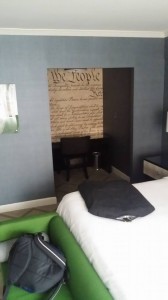 I went for a nice stroll through Georgetown to the Ritz Carlton Georgetown where the wedding was.  It was a nice fairly small ceremony and the Maid of Honor was Bridgette, a cute female bull terrier, who rumor had it was a real whore with a couple of the groomsmen later that night.  I thought it was cute, given the small ceremony, for Bridgette to be involved, but can you imagine being the bridesmaids and losing out to a 112 year old Bull Terrier?
Then it was time for me to shine. The miscellanous wedding table.  I was sitting with four couples and one married dude whose wife was back home.  Definitely one of the most fun wedding tables I can remember in my wedding career.  Instead of feeling like Lebron on the Cavs, I felt more like Chauncey Billups on the 2004 Pistons – a real solid team effort from everyone at the table.  Added bonus was sitting next to a celiac (the gluten diseased people) which meant double dinner rolls and double cake (cut me some slack I dropped 40 lbs since March) for me. I even asked for permission by the time I took her third roll.
Due to my extra working out, my lack of partying conditioning this Summer and my insomnia over the last month I left around 1015 and went back to the Melrose. I fell asleep and was having a nice time until my hotel alarm went off at 3 am.  And then again at 530 am.  Here is something I think all hotels should do (this has happened to me 4 times in my life) – the maid should have to reset or turn off all alarms as part of her (or HIS #equality) duties.  As revenge I jerked off into the shampoo bottle and then cleaned it off like it had never been used.  It is a thing I like to call "Shitting it Forward."    But seriously, there is nothing more annoying then having exactly one night a week to sleep well, having swank and cozy conditions to get eight hours and then, with 6 gin and tonics and a belly full of gluten, getting jolted awake at 3 am.
But overall, a great little trip back to my old stomping grounds. Here is a throwback photo of Ross and I (and comedian Danny Rouhier on the left) in 2003 or 2004 when I started.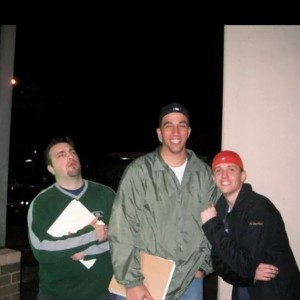 For more opinions, comedy and bridge burning check out the Righteous Prick Podcast on iTunes and/or STITCHER. New Every Tuesday so subscribe for free!