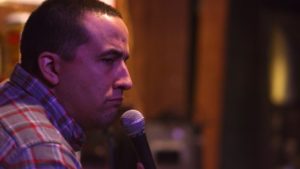 I was disappointed to learn earlier this Summer that the Joke Joint clubs in St Paul, MN and Houston, TX had closed.  They were two of three venues to book me as a headliner so I just lost 67% of the rooms that headline me (though I say with no humility, but total honesty that I can probably torch 67% of the comedians headlining A-list rooms today).  They were venues that gave some comedians who were strong features, but not well known or well-represented comics a chance to headline, which almost always means more money and better merchandise sales (in St Paul – the policy for years had been if you buy a comedian's merch he would give you a free pass to a future show – obviously a big help to road comedians).  And it allowed real experience in headlining (which requires not just material quantity, but reps doing that length of time).  The Houston location came under fire from some comedians for headlining porn star Stormy Daniels, who obviously is not a stand up comedian and drew an angry response from most comedians.
Now I have made many jokes about A-list comedy clubs booking YouTube stars, actors, Instagram celebs and WWE wrestlers to headline their clubs, but the Daniels booking did not make me feel the same way. Perhaps it was some personal bias, but the Joke Joints were basically C-list clubs.  They were not owned by a chain. They were owned by one guy who was giving opportunities to comedians who otherwise would not get that opportunity.  So with that goes a need to boost attendance in other ways.  If the JJs were booking A-list acts they wouldn't need to stunt book, but they were giving working/struggling/up and coming/down on their luck comedians opportunities that other clubs couldn't (and can't) bother to provide. That should be understood and celebrated.  That is why I defended JJ's specific booking of Daniels.
I emailed the owner of the JJs recently to thank him for his years of bookings and to wish him luck and say that I was sorry the clubs had to close.  He thanked me, but then said something that made me sad, but also confirmed a lot of my cynicism of the "comedy community."  He told me that he was sort of surprised at how few people had reached out after the closings.  I was sad because this was not a business owned by a some faceless conglomerate – the owner was on site most of the time.  He did the bookings for the clubs. In St Paul, before he moved to Houston, the comedy condo was the top floor of his own family's house (kept very nice with a separate entrance for comedians). You could not have an owner with a more personal connection to the comedians. And the response to the clubs' closings was mostly silent ingratitude.
For years I have hoped for a groundswell of comedians to push for a guild (Hassan Minhaj's Netflix show recently highlighted a push by video game developers to unionize – so now gamers are ahead of comedians on labor rights), but said many years ago that you probably cannot organize a work force that already acts with the self-centered desperation of  a scab.  But this demonstrated to me that comedians are just as big a problem to the comedy bubble that has already burst for the working class.  It is an industry littered with a workforce with Boiler Room ethics.  I have consistently blamed the management and business classes of stand up for its problems, but it takes two to tango and a stand up community filled with equal parts opportunistic social media and podcast stars and actual comedians  is not going to be the place to look for moral or ethical behavior.
I know it's a small sample size, but there are top tier comedians and nobodies who have made their way through the Joke Joints and the club has been opened for many years.  That's hundreds of comedians who have walked through their doors, many for their first or only headlining opportunities (hopefully local comedians were more thoughtful and appreciative than the headliners).  But as my comedy career winds down, to my deep disappointment (though a new doorman at my building found out I did comedy and binge watched my YouTube channel last night with his wife and loved it! #HopeSpringsEternal), I can take a perverse comfort in knowing that, although there are good people at all levels of the stand up comedy world, perhaps it is a community that I will be better off without.  I hope the JJ owner is better without it as well if he chooses to be done with the business.