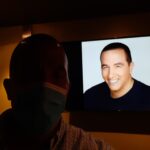 This morning, on 3 hours sleep (we will address that later) I finished reading Michael Lewis' new book The Premonition. It is a book about some select people, much like those featured in his book The Big Short, who had a combination of outside-the-box thinking, instinct and intellect to know something bad was coming. In The Big Short it was the financial crisis underpinning The Great Recession. In The Premonition it was the current pandemic.  I know that Lewis will never write a book about me, but I feel like I have some of the same gifts for anticipating doom and gloom, with one caveat: I can only really predict them for myself.  And a day after going on an exhausting, infuriating trip to my nephew's soccer game (this week's Righteous Pk Podcast is dedicated to that story – go have a listen), the soccer game misadventure would pale in comparison to the Sunday experience I had going to, and coming back from, Philadelphia.  So let's get to it.
Christian Rock Lyft
I was headlining Helium in Philly on Sunday night at 7pm.  The good news seemed in abundance. It was one of my 2 favorite clubs in the country, the Eagles were not playing Sunday and the last time I performed at Helium to record my album Thots and Prayers, I sold 100 tickets on a Wednesday.  So my cautious optimism was that I would at least meet that number given my exponential boost in fame and the fact that it was at least a weekend day, if not the worst day of the weekend. I sold 150 tickets on a Monday in Boston, so Philly on a Sunday shouldn't be a problem I thought.  Now of course, I slept poorly the night before the show and felt my heart racing all day.  See, when I say that comedy is bad for my health I mean that quite literally.  When you entire career has been a fight to get your talent recognized and every legit milestone of your career exists as an isolated incident instead of accumulating as momentum building events, every gig that presents an opportunity for money, a relationship with a club chain, etc. takes on extra weight because of the overwhelming feeling of "these opportunities are infrequent at best."
So I ordered a Lyft to take me to Newark Penn Station, the world's worst train station. My driver arrived and began blasting Christian pop-rock.  I like Church and I like rock, but rarely do I like the combination.  First off, how many songs can you just have about Jesus' love?  I mean that with all due respect – all 10 songs I seemed to hear seem to come from the same single idea with little variation.  There appears to be almost no daylight between a vaguely Christian pop song and a parody of a Christian pop song.  And the radio station said they had pastors on call if people wanted to call in. I found it all sort of humorous, but the driver was not just enjoying the music – he knew the words and was adding percussion on his steering wheel.  And then we passed a homeless man in traffic looking for money and Dominican Joel Osteen behind the wheel just gave him the Jordan shoulder shrug.
My driver had 55 minutes to get me to Newark Penn, which according to GPS was a 13 minute trip. Well DJO opted to avoid the highway (which was clear) for a series of side streets all the way to the station, We still got there with 18 minutes to spare, but I sort of felt like I was being taken the long way to see if the music of Imagine Jesus Dragons could work its magic on me.
Back in Philadelphia
When I arrived in Philly, on time at 435pm, I walked by the club to see my face.  Two things I noticed. One, the club used The Late Late Show as my credit. Perfectly legit, even though most people know me from other, more recent things. But multiple clubs have insisted on including "with Craig Ferguson."  Would there be a violation of comedy law if we fooled people into thinking my stale late night credit might be from James Corden's era?  Is Corden going to sue in Musical Theater Court if someone doesn't make it clear that I was not on his iteration of the show?  The second thing I noticed was the Sonja Morgan of The Real Housewives of NY would be headlining the club a week after me.  I have often told my girlfriend, more anecdotally than with hard data, that when she watches 4 different real housewives' shows she is supporting the reality show industry which boosted cheap shows starring talentless turds at the expense of more scripted material that before streaming might have been an opportunity for struggling writers and comedians.  I am not saying that reducing scripted shows by half in the 2000s would have directly led to me personally having a boost, but you get that in the aggregate, someone like me might have had more bites at the apple.  But I never meant it in a literal, direct sense. But thanks to sharing a marquee with Sonja Morgan I see that my journey of 18 years in comedy has been worth all the effort and that I am now in direct competition with Sonja Morgan (as singers must compete with Countess Luann's bars on "Money Can't Buy You Class").
So now my premonition of doom was bordering on full blown panic.  I went to a nearby Barnes and Noble to finish mapping my set and then went to Shake Shack for a chicken sandwich. Then I went to the club.  With about 15 minutes until showtime my fears were confirmed. I was not going to get close to the crowd I had 3 years ago.  I went into the green room and chatted with the emcee and feature (who both did well) and apologized for the less than stellar crowd.  That is when in a corner of my mind I entered a dark place – if my crowd is reduced by half, after a period when I exponentially increase my fan base, then what has really been accomplished? Other than a Greek Tragedy-level dose of social media-induced delusion.  My goal, of course, is not to be an Internet G-list celeb; it is to be a headlining comedian.  But that requires translating Internet money and followers into asses in seats.  Somehow I did what felt impossible – I turned a fan base 40x bigger than in 2018 into a crowd 50% smaller.
Now before you worry about whether I should be sharing this in an industry that prides itself on false confidence and ass kissing, my crowds in DC and Boston were great.  So it is not like I have been travelling and eating dogshit. But, like many comedians, I can be a prisoner of the moment and because of my several successes in Philadelphia at Helium, it felt particularly depressing to have my smallest crowd in 10 years performing there (including 2 album recordings on Wednesdays when I was obviously the headliner).
The Healing Power of Fans
So I did my set. It went well. My shirt was soaked with sweat, which had less to do with heat and more that I felt like I was fighting off career failure with every joke I told. I greeted fans after the show and they were great. There were social media fans, there was a guy who has first saw me during my first feature week in 2011 and has been a dedicated fan ever since (he told me that when my stuff blew up in 2020 he was indignant on my behalf "you need to check out his stuff! He's been funny for a long time!").  And then a fan/friend via social media, Doug, postponed his return trip to the Netherlands to come to the show.  I bought him a milkshake at Shake Shack after for his troubles (as another fan knows – if you travel on a 6 hour+ flight to see me do a show, I will hang out and buy food/drink after – not a great deal admittedly).  So as I walked back to 30th street station, having sold merch and met many kind, generous and effusive fans I felt so much better. One of the silver linings of having a fan base that is not too large is that you get to feel and appreciate their support up close.  From a business perspective sure, it would be better to have a fan base of millions, but when the fans you have can make it personal it makes it easier to be appreciative and stop feeling mopey because one show was financially disappointing.
And then all the good feelings were eviscerated.
The Soul Killing Power of Amtrak
I arrived at 30th Street Station at 1010pm for my 10:28pm train – the Palmetto, which travels from Georgia to NY.  The train was listed as 20 min delayed. No big deal. But on further examination of the arrival/departure board included trains that were supposed to arrive at 718pm and 802 pm from south of Philly as delayed still.  For the next hour, I watched how every ten minutes, ten more minutes was added to the Palmetto departure time.  I checked to see what a Lyft would cost from Philadelphia to Bloomfield (the non-Christian rock, local road option) and it was $134 before tip.  Had I made a killing at the club it would have been a no brainer, but instead I decided to wait for my train.
At 1145pm an announcement was made that all northbound trains were delayed with no addition information. At that moment a mouse ran around near me, presumably trying to get a Lyft before the surge pricing kicked in. I then checked Lyft and it was $220 before tip.
Interesting J-L Jinx sidebar here – the club offered me a hotel. I turned it down because I wanted to be able to start work on Monday morning. Well, as it turns out I do not currently have an assignment, so staying the night in Philly would have had no negative impact on my day job.
At 1215 there was an announcement that the trains north of DC have begun to move and the first one would arrive in 45 minutes.  No word on the Palmetto.  After the 718 train arrived at 1245am, the next train was announced (the 802pm would be here at 105 am).  The station then announced "if you are on the Palmetto your tickets will be honored on this train." I considered waiting for my train where I would have a reserved seat to myself to maybe nap for the hour back to Newark, but then the Amtrak employee shouted  – "Train 90 can board this train" (that is the number of the Palmetto) so I figured he was emphasizing as a courtesy. So I went down the stairs at 105 am and boarded the 802pm train.  And then we waited.  Multiple trains pulled into the station after, discharged riders and continued north as we sat idle.  An hour later (and as it turns out 35 minutes after the Palmetto had come and gone without me) it was announced that we were waiting for a crew change. My guess is that a train crew cannot continuously operate a train for beyond a set period of time and perhaps the 5+ hour delay necessitated a crew change by union rule.  Well at 215am we finally got to leave. I had the all-nighter chills and shakes, so I probably looked right at home as I arrived at Newark Penn station at 320am, a tidy 45 minutes after the Palmetto had swung through.
I caught a cab and arrived home at 345am to be greeted by Cookie. I put on my eye mask (my bedroom is disturbingly bright in the morning, which is not usually a problem since I cannot sleep past 5am), caught 3.5 hours of quality sleep and woke up wondering if I can continue doing comedy.  Fans are one thing, but 6 hours for a one hour Amtrak trip in the middle of night might be the most powerful, negative force known to man.  The good news for you readers who like miserable comedy writings: I am Amtrak-ing to Raleigh (10 hours each way) in a week and a half to headline Goodnight's Comedy Club. God help us all (in Christian Rock voice).
P.S. – as soon as I published this by Twitter mentions were blowing up because SNL had announced it hired a new Trump impersonator for the upcoming season. It was not me.  Amtrak actually does not feel so bad anymore!  Good luck to all the new cast members.