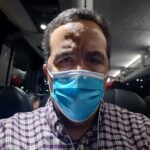 After not being on stage since February 2020 I finally got back on stage last night.  Etch April 27, 2021 into the comedy history books.  Before 2020, my road comedy recaps were a regular part of my existence – write ups of all my road work to report the highlights and lowlights of doing the road as a middle act.  Well after an unexpectedly successful 2020 I now begin writing road recaps as a headliner.  I consider 2013, the year I dropped the double barrel release of the Louis CK parody video and Keep My Enemies Closer to be the year (my 10th in comedy – when it is cliché to say that a comedian has found their voice) that I was ready to headline and take comedy by storm.  Obviously comedy, unlike Q, was not ready for the storm.  Fast forward I was asked by a friend to headline his room in Magnolia, NJ in February and I asked for the last Tuesday of April because it was 3 days after my birthday and I figured if I was not vaccinated (as an essential fat person I assumed I would be high on the list) by April 27th we were all fu*ked.  Well I got my second Moderna shot on April 9th and two weeks later I was good to go – 4 days before the show.  So with that preamble, let's get to what may be the first road recap for many of you.
Greyhound Bus – Superspreaders of All Varieties 
I have a bit on Too Big To Fail about Greyhound so go listen to that for more of my opinions on Greyhound, but Greyhound was my best way to get to the gig (meeting my friend and show booker in Atlantic City to then ride to the bar in Magnolia, NJ). I arrived at Port Authority at 215pm for a 3pm bus. On my way from Penn Station (The Godfather to Port Authority's Godfather II, in terms of homelessness and human tragedy in NYC) to PABT I witnessed 4 drug deals on 34th street in the span of 30 seconds (NYC is BACK!) and a young Asian man trip so bad that I admonished the sidewalk to #StopAsianHate.  I got to PABT and bought an iced tea and a bag of pretzels. I scarfed them down on line for my bus because I figured the safest way to take what appeared to be a crowded Greyhound bus to Atlantic City was to not remove my mask at all during the trip.
When I got my seat I was happy to see that I had a seat to myself. There were a few other seats available, all next to people smaller than me (at 6'7″ and a PED, pandemic enhancing diet, inflated 300 lbs it would be tough to find someone bigger) so I got ready to read my Rick Perlstein book (Reaganland). And then one more person got on the bus.
He walked to the back of the bus but then made his way to me and just stood next to my seat. I was listening to music, but I looked up and asked "do you want this seat?" comfortable that his answer would be no. He said yes.  My good vibes were gone.  I began questioning my life, life choices and why, in a life that seems to deliver near hits and catastrophic failure, why the small comfort of a book and a seat on a Greyhound bus proved too tall an order for the transportation gods to complete (I know, I am being to dramatic and pessimistic, but where the fu*k do you think I dig for my insightful, aggressive, resentful brand of comedy?).  He sat next to me and my right thigh began a 2 hour sweat like it was the debate stage chest of Tulsi Gabbard.  But now, like Israel I could tell I had enemies all around me.  The couple across from me both had their masks around their chins having a conversation.  Do people think they are going to fool the bus driver?  Like if he stops the bus and turns around to make sure people are complying they can flip it up like a Looney Tunes cartoon?  This is for us!  I asked them to put their masks on and they did (REAL LIFE INFLUENCER KIDS). Two seats behind them a guy was enjoying what looked like a casino buffet with his mask down and the thighmaster next to me began snoring through his exposed nose (mouth only covering still seemed like a win given what my other neighboring nations-seats were offering.  I put my book away and just listened to my iPod the rest of the way.  But one thing was clear: stand up still had plenty of suck left in it for Comedy's Sisyphus.
Magnolia, NJ
My buddy and show booker Steve picked me up in Atlantic City and we drove to the Laughing Fox Tavern in Magnolia, NJ. The place was very nice with a very nice lounge/clubby area downstairs where the show would be.  I had a pulled pork sandwich and coffee and went over my set. The crowd started filling in and it ended up being (I think) a socially distanced capacity crowd. My set was meh.  My material is great and was delivered decently for the most part (and in the 50 minutes, about 90% new material from 2020-21), but I had to look down at my stool (the chair, not the one I needed to take after pulled pork and coffee) so my polish was not there.  The energy in the room was supportive, but a little weird.  But when I am not in full command of my material I tend to be lower energy (Jeb!) and I think that informs the crowd's reaction.  I am not a comedian that says "the crowd is never to blame." As you can imagine I am the type of comedian that is very willing to apportion blame when it is due (my next/first tour should be called "The Personal Responsibility Tour"), but in this case I think it was a crowd that could have been gotten, but I was not near the top of my game.
The really good news was that several new fans showed up to the gig!  I spoke with them after and then road back with Steve to Philadelphia's 30th Street Station. I waited for an hour for the midnight Amtrak (ate 2 donuts and recorded a YouTube video in the station because at some point you become a 42 year old man/comedian who cares not for their health or how the other patrons stare at you as you speak like a former president (I was doing my Coolidge impression)).
Home Sweet Home
When I arrived in Newark I hopped in a cab (nice thing about a 130am cab ride in Newark is that they will not gouge you – same price as a Lyft without the wait and mystery.  And whenever possible I try to support real cabbies.  We zipped up Bloomfield Avenue, he dropped me off and I entered my apartment at 1:50am to a delighted, but sleepy looking Cookie Cauvin.