This weekend I had a pair of gigs in Princeton, NJ at Catch A Rising Star.  It was my first time back to the club in what feels like 10 years (it did not go well when I featured there a decade ago) and fortunately, thanks to a killer Saturday show, I left with my head held high.  But until then it seemed like a potential disaster.  So with that thrilling and misleading intro, let's break down the most recent road trip!
Friday: Lyft Tears Me Down
On Friday I woke up early to get some legal work done (Spike Lee's documentary about me, J-L Doin' Work, was scrapped because reviewing documents by the Beige Mamba was deemed "not as interesting" as his Kobe documentary), hit the gym and then made my way to Newark Penn Station for the 6:03pm express train to Princeton, NJ.  I would have taken the train to NPS and saved myself money, but NJ transit is shaped like a V in my area, with Secaucus as the pivot point of the V.  You need to go all the way to Secaucus to get a train that goes along the other part of the V. So you end up going past Newark to get back on a different train line that runs through Newark.  So to do that by train I would have had to leave at 430pm, whereas a 530pm cab would allow me to catch a better and faster train out of Newark Penn (which for TV enthusiasts is what The Walking Dead is based on).
So when I ordered my Lyft at 5:20 I was offered a faster ride (to arrive 8 minutes before the 6:03 train) if I upgraded to Lux (these are Lyft cars sans food/beverage/jizz stains) for a couple of dollars more.  Then I got a text from my Lux driver:
"Are you going to [sic] far?"
I did not reply because I was going exactly as far as I wanted. Not one step more.  So when my driverette (a female driver) showed up I hopped in and she asked where I was going. I told her Newark Penn Station and she said she wanted to go to NYC.  I thought, "You can, as soon as you drop me off."  For the rest of the ride she kept nervously checking her phone, while hitting every bad patch of traffic.  Then as we got near Newark Penn at 5:59pm she opted to go through the most clogged traffic near the station and I missed the 6:03 by 1 minute.  She also rejected a person who was clearly her pick up at Newark Penn.  To top it all off, she dropped me off in the 3rd lane of traffic so she could make an easy escape to whatever awaited her in NYC.  When I opted to not tip her I noticed that she had 5 stars.  Not since the last Terrence Malik film I saw have I seen something so absurdly overrated.
I caught the next express to Princeton and arrived at Princeton Junction at 7:00pm (8pm show time).  The club is located in the Princeton Hyatt and GPS said it was a 1.3 mile walk. I opted to walk. And then .4 miles into the walk the sidewalk disappeared.  This happens far too much in our car obsessed, fat fu*k society – even if you want to walk and keep the Grim Reaper at bay for another 20 minutes, you can't.  So I ordered another Lyft to take me less than a mile because to walk this path in the dark would probably spell my death via oncoming traffic.  When my Lyft driver arrived he farted when I got in the car. And it smelled.  His rating on Lyft? 5 stars.
I arrived at the hotel, checked in to a lovely king suite and then headed down to the club where there was an audience that could be described as "small."  We had a good show (I posted to Twitter a sad engagement where no one got my Opus Dei reference) and oddly enough the crowd seemed to like me more the longer I was on stage, which is contrary to many audiences and most relationships I've been in. A highlight was seeing a friend from my days in Washington DC when I was a law student. Sadly I have only seen him around once a decade and a joke that hit well on stage was "a friend of mine from DC who saw me when my career started is here tonight. He knew me when I was only performing in front of a couple dozen people in DC. Now, 19 years later he sees me in a different city performing for a couple dozen people. Dreams come true!"  I retreated to my room with an ice cream bar after the show and got a solid 6 hours sleep.
Saturday: Better Show. Better Lyft Ride. Papa Johns'.
On Saturday morning I went to get breakfast. I saw a buffet display and was then told that it was for a private party.  I then made my way down to the restaurant for an delicious, overpriced hotel breakfast (this is why I prefer Hampton Inns, the official hotel chain of J-L's comedy "career" – breakfast is always included). After that I did something I never get to do – I read all the magazines and papers I subscribe to – The Athletic, The Atlantic, The New Yorker, Washington Post, NY Times and Michael Cohen's substack.  I even spent 3 hours reading 1/8 of a ProPublica article!  Then it was time to have lunch with a long time fan who also had a business proposal to pitch me (TBD). We went to a great pizza place in Robbinsville, NJ called Papa's Tomato Pie.  Superb.
After I returned to the hotel I did a few hours of writing. I then had a steak dinner at the hotel restaurant (at this point my spending for the trip was approaching the pay check I would receive at the end of the night for the weekend work).  The set was strong (with about 40 new minutes since the (2) special tapings (angry emoji) to the point that I am planning on a spring taping of my 8th hour – tentative title "The Hateful 8th" – SELF PRODUCED) and as proof here is a clip from the show as well as a Facebook posting about one superb fan, that of course seemed to be interpreted by many on Facebook as more sentimental than funny, as it was intended, because… my #fans.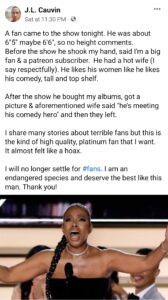 So after the show I had a drink with the other comics and the show promoter. I then decided to head home that night, rather than sleep in the hotel again (even though it was really nice). I kept checking Lyft (prices ranged from $66 to $121) and then I saw on the wait and save option $54 to go from Princeton to my apartment in Bloomfield. SOLD!  My driver picked me up in a nice car (could have been a clean/jizz free Lux car, but was obtained via the common folk option) and beat the estimated arrival time by 14 minutes, all while laughing with me when I told him about Friday's two awful drivers.  I gave him a deserved 5 stars and a $20 cash tip because at the end of a weekend like this, someone good at their job should turn a profit.
Thanks to CARS in Princeton and thanks to everyone who showed up.  Off to Ann Arbor, Michigan in 12 days.