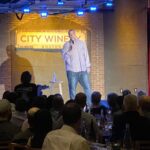 So this weekend I made a trip to Boston for an encore performance at City Winery. Last July my trip to Boston represented one of my first post/mid/where are we in the pandemic comedy road trips and it was a smashing success. Despite my pessimism at only being offered a Monday night spot I got around 150 people in the main room, met lots of fans and returned home to NJ the next day a conquering hero.  So this year I felt even happier to get a Friday spot at CW.  I had initially booked two Friday shows (the smaller room, which is better for comedy, seats 75 people so I figured 150 on a Monday in July = at least 150 tickets on a Friday in July). As my friend Duane said to me after the show on Friday, "I tried to buy tickets for the late show, but it was sold out."  I replied, "We canceled it because sales were awful." He replied "Well you could have said nothing and let me think it was sold out." I replied, "for better, and most certainly for worse, my entire comedy career's essence forces me to say exactly what I just said."  So now that you know the middle of the road story, let's get going on the whole thing.
The Way to Boston
I took a day off from work (I now try to factor in the cost of  vacation days when taking a comedy gig, the way companies should factor carbon output into their value) and hopped on the 10:03am Acela to Boston.  The train was uneventful. I helped my seatmate, a petite Asian woman, put her suitcase in the luggage compartment. Either I am getting weaker or Thor's hammer was in her suitcase because that thing was heavy AF.  The real highlight came when a fan, before departing one of the stops just outside of Boston tapped me on the shoulder and said she was a big fan.  I said I was headed to Boston to do a show and she said she knew but her husband had tickets to Phish.  As if that was not bad enough, some guy on the train (one of these Phish people that apparently have unlimited vacation days to tour the country to watch Phish) chimed in with "you're going to Phish? Me too!"  I wanted to say "Hey fella, can't you see this is a fan-entertainer conversation?  No one asked what the Ungrateful Dead fan thinks about any of this!"  But instead I thanked the fan for her support and waited to arrive at South Station (as I learned this morning before leaving for NYC it is actually the Michael Dukakis Train Station – PUT SOME GREEK SALAD RESPECT ON HIS HAIRY NAME!)
City Winery
I walked to my hotel, Club Quarters, from MDTS. Serviceable enough hotel, though my bathroom smelled very musky. Then it was time for sound check. The young staff on the show was all very nice and positive.  The lead was a young woman whose experience working with artists and her psych degree clearly gave her a good set of skills to communicate with giant, despondent, self-deprecating comedic geniuses before shows.
I made my way back to my hotel to shower and go over my set list (of the show, at least 50 minutes were written in the last 2 months, post the new special). And on an extra good note, my friend Al, part of a Williams College group of friends coming to the show (Utah Jazz Coach and Class of 2008 Eph Will Hardy was disappointingly not there – he must still be busy helping demolish my favorite team – WHY COULDN'T IT BE AN AMHERST GRAD TO DO THAT!?), had been able to get on a last flight out of Chicago after his planned flight was canceled.
So I went on stage at 7:20 and outside of a bit on Mark Wahlberg and comparing terror attacks in Boston and NY to the Red Sox and Yankees, which did fine but ruffled some, I think the set was a big success.  I do not want to mention some of the topics (simply because several of them are original and I would not want to inspire someone else to do bad versions of my work), but I will probably post some audio/and or video to my patreon this week.  I also busted out an impromptu George Carlin impression for a bit where I was parsing some language.  One fan was at the show 2 days after his father had passed, which was very touching and would have been a much more valid excuse to miss a show than Phish (just kidding Acela fan!).
But it turned out that in addition to all of Boston going away every weekend in the Summer, there were a ton of big concerts in the area on Friday. Not only Phish, but Zac Brown Band and, the big one nearby, New Kids On The Block, whose audience could only be described as a "white, middle-aged flesh tsunami" (as I dubbed it after the show).  After the show my group of Williams friends and I made our way to a nearby sports bar to watch the Red Sox-Yankees game, which the Yankees predictably lost (since I was watching).
Saturday
The next morning I woke up and read on a park bench downtown while having a cup of coffee.  As I took in downtown Boston, and wrote in a tweet, it felt like watching American History get molested by a shopping mall.  The proximity of commercialism and historical landmarks is so jarring, at least to a visitor.  I then went with my friends and some of their kids to a family friendly brewery called Trillium (seems like an oxymoron, but it seemed to work – beer, kids, driving – what could go wrong?!). I had 3 drinks and then proceeded to play whiffle ball with everyone.  My personal highlights were ripping a double with one hand and on a routine grounder, fielding it and then tumbling to the ground as some combo of beer, surgically repaired knee and 43 year old-thinking-he's still 29-clumsiness took hold of me.  I cannot imagine what that looked like to half a dozen elementary school age kids, but it had to have been jarring.
I had to take a Lyft back to Boston early because I had to go to Mass (since I am on Amtrak all morning and they don't provide a snack car chaplain). I arrived in Little Italy for Mass, which meant I had to kiss my hand after doing every sign of the cross.  I also noticed that there were a lot more young and attractive people at Mass in Boston than in NYC or NJ – is this because they are still trying to bag a Kennedy?
After Mass I went back to my hotel and prepped to go watch the Sox and Yankees with my friends, but after a long, fun and tiring day drinking and playing whiffle ball in the Sun the plan was nixed.  So I did not get to watch the Yanks (of course they won 14-1).
Sunday
I got up early for the 6:35am train back to NYC, which is where I am writing this.  It is not an Acela train, but I am sitting next to a guy wearing a Brown University Sailing hat.  It makes sense that I am on this regular people, slow train – comedians on the downside of their career are right at home.  But someone on an Ivy League sailing team?  You are not doing life right if you are on the poor people train.