Red Roof Inn
This weekend I featured at Magooby's Joke House in Timonium, Maryland.  I was opening for Dan Soder. who five years ago was a waiter at a restaurant near my apartment and was on my podcast (Episode #6 – Walking Dead episode).  Since then he has had a Comedy Central special, a Netflix half hour, a radio show on Sirius XM called The Bonfire and a recurring role on the Showtime show Billions.  So needless to say my podcast is a real launching pad for stardom for guests, but not so much the host.  The trip included fun shows, another visit to a Catholic Church trying to be an evangelical rock concert, poor merchandise sales and a late night trip home on Greyhound. So here we go!
The Accomodations
I have been to Magooby's enough times to have memorized the path to the Red Roof Inn Plus – Amtrak to Baltimore Penn Station, the Light Rail from Baltimore Penn to Timonium Business Park (no one in 4 years has ever taken the ticket from me, but it is only $1.80 so I get it just in case) and then a one mile walk to the Red Roof Inn Plus, which is one mile from Magooby's.
2 years when I stayed at the Red Roof Inn Plus I was on the first floor, which is basically a motel telling you they hope you get raped and murdered.  A year ago I was on the second floor, but this year, in the ultimate sign of discount motel respect, I was on the top floor (the third).  People don't know this, but two flights of stairs is usually enough to discourage most motel rapists and murderers.
The room was nice enough, though I learned that the "plus" apparently stands for the white stain on my black desk chair.  I have no idea what the white stain was, but it tasted salty (most of this section are jokes I opened my set with, but also true).
The Shows
The crowds were solid for the 5 shows at Magoobys.  Other than the two clips I have posted below, my favorite joke from the week was comparing Maggie Gyllenhaal to Kevin McHale with breasts – not sure I want to have sex with her, but I definitely want her on the low blocks if I need two points.  I then explained to two different audiences who Kevin McHale is, what The Deuce is (Gyllenhaal's great show on HBO) and who Waingro was (the character in Heat that I expected to run into at the Red Roof Inn Plus) because it is not a J-L Cauvin set unless various historical and pop culture references need to be explained.  So here are two new clips (please give them a like on YouTube):
The Rock Church
Now on Saturday I had to check out of my Red Roof Inn Plus (to save money I opted out of a third night #ComedyMogul), which meant roaming Timonium, Maryland for 8 hours with my luggage like a Samsonite-sponsored vagabond.  That meant 2 hours at Starbucks, 3 hours at Panera Bread and then a one mile walk to The Church of the Nativity, the closest Catholic Church to the club area, for 5pm Mass.  By way of background please enjoy this bit from St Paul, Minnesota this past Summer about when I found myself at a very modern, hip Mass:
Here is the thing – when I go to Mass I expect the simple things: anti-gay, anti-abortion, organ music and/or Gregorian chants and preparation to fight to the death on the side of the righteous in the War on Christmas.  What I don't need is some Joel Osteen-meets-One Direction experience.  As I approached the Church of the Nativity I noticed the entrance which felt more like a liberal arts college than a Catholic Church.  Big driveway, a huge 3 story floor to ceiling glass wall showing a huge coffee bar and lounge.  I then entered the Church part of the structure and when inside here are some of the things I saw:
A band with 4 guitarists (lead, rhythm, acoustic and bass), a keyboard player, a drummer and 3 vocalists
2 large screens for showing the band, the song lyrics and the readers/speakers
3 different cameras and a switchboard (they were filming for the website and live streaming)
A CNN-electoral map-esque 46 inch flat screen TV where the priest touched and swiped  to highlight different parts of his homily and Bible verses
Ushers with security headsets
This was insane to me.  If you are Catholic, one of the things you enjoy or like about it is some of the old school-ness of it (and in all seriousness I am not talking about some of the antiquated values). But it is as if this and other Catholic Churches are saying "The Evangelicals are killing us!  We need more bells and whistles. More pop music! More cell phone apps!  More hypocrisy!" WELL I DON'T LIKE IT!  The Catholic Church is not going to win more fans or loyalty by turning into a Mumford and Sons concert.  But it will feel like an annoying experience to people who do want the ritual and tradition of Mass.  And most of all I was disappointed in the folks in attendance.  If you cannot depend on old, conservative white people to maintain old traditions – who can you depend on for that?! #MMGA
Headed Home
So after Mass it was time for the last two shows at Magoobys and then a Lyft (#NeverUber) to the Baltimore Greyhound station.  My last three 11pm or later Greyhound trips I have had to sit next to someone because they were packed (Greyhound is like the Underground Railroad at night – immigrants, minorities and felons seeking to avoid the daylight), including my last trip from Albany where I sat next to a man so full of non-James Brown funk that my eyes teared up.  Well, just like the Red Roof Inn finally show me 3rd floor respect on this trip, I was rewarded on Greyhound with a full 2 seats to myself.
When I got to Port Authority Bus Terminal at 4am (I called it The David Simon Bus Tour from the home of The Wire to the home of The Deuce – almost no one got that joke the two times I said it on shows) I hopped in a cab and went home.
This week see me at Helium Comedy Club in Philadelphia Nov 2-November 5.
Be sure to check out Keep My Enemies Closer, Israeli Tortoise and Fireside Craps on iTunes. 

This weekend was Labor Day weekend, but in one of the great ironies of my comedy career in 2015 it was one of the few weekends I found myself working in a comedy club, instead of at a computer doing legal work.  I was in Timonium, Maryland at Magooby's Joke House featuring for Rob Maher (he is the guest on this week's podcast).  So, continuing one of the most revered traditions in all of stand up comedy, here is another road recap for you to enjoy:
Thursday – Small Crowd, Smaller Laughs: I arrived in Baltimore with The Wire theme song repeating in my brain and got on the light rail to Timonium. From there it was a .6 mile walk to the Red Roof Inn Plus, where I was staying. I wasn't sure what to expect when I arrived at the RRIP for a few reasons: one – I have stayed at some very pleasant, well-attended Red Roof Inns; two – this was a Red Roof Inn PLUS so it was probably better than that and three – I paid $159 (including taxes and fees) for three nights. So those are two reasons it could be good and one that could mean I would get raped and murdered by Waingro from Heat (an analogy I have made too many times to the various lodgings in my comedy career).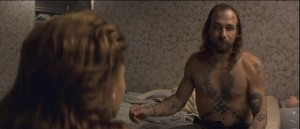 That night there was only one show. The crowd was light and for me, the laughs were lighter.  It was one of those crowds where way more people came up to me after to tell me variations of "really funny," and I always want to reply, "Yeah, I know, but it would have been cool to laugh out loud during my set so that I didn't get the universal sign for "not funny at all."
After the show Rob (the headliner) and I were caught in a conversation with a 5'7″ busty blonde from Bel Air, MD who taught special ed kids (what's not to like?).  Now on a quick biographical note, I dated a 5'7″ busty blonde from Bel Air, MD for three years so perhaps engaging in any conversation with her was an attempt to re-capture a pleasant moment from my past.  However, that lasted about 20 seconds. Why?  Because the woman at the club was kind of racist and might have been looking to cheat (two of my three rules with hooking up are 1) must not be racist and 2) must not be in a relationship – the third, which does not apply here is 3) must not be someone a friend dated). Well this woman was regaling Rob and I with stories of how she has relationships with women, that her husband was away for the weekend and how she gave her 1st BJ in 7th grade.  She had an accurate count of how many black men she had made out with in her life ("three") and many other odd statements that might have made her super progressive during the Civil War, but felt uncomfortable in 2015.
After leaving the club and bisexual, racist version of my ex, I stopped by the gas station across from the RRIP, bought a pack of Soft Batch cookies and a 1% milk (an old road tradition of mine) and went to cross the street when I saw a young 20-something woman in a low cut tank top and shorts holding a sign that indicated that she was hitchhiking.  Needless to say that this empowered woman was just another in the quietly dignified group of "sex workers" in America who, despite a 99.9% correlation of being victims of sexual trauma and/or parental neglect, she seemed like the exception to the rule and just making sound life choices to augment her entrepreneurial life.  But since my room had two beds and I felt bad I asked the woman three quick questions…
Friday – J-L is Back! (but still not selling much merchandise): Friday I spend about 5 hours in a Panera Bread reading (FYI – the best chocolate chip cookies available from a chain are Panera Bread's. They are awesome).  Message to any men over the age of 60 in Timonium, MD – there is an oasis of senior citizen vagina in the Panera Bread.   I also tried to watch a movie through Amazon Prime in my room, but Red Roof Inn Plus has the WiFi equivalent of 1997 dial up.  I also noticed that there were a lot of ants in  my bathroom area so I did buy a can of Raid-Ant Killer and proceed to become the Bashar-Al Assad of the Timonium ant community.
That night I had two strong shows, but sold almost no merchandise.  So instead I bought two packs of Soft Batch, one for each CD I sold. I would have given the local prostitute a pack, but she was not out on Friday night.  I then got home in time to catch an amazing fifth set between Rafael Nadal and an Italian dude named Fabio Fognini. In addition to upsetting Nadal, he also led to the greatest tweet in US Open history when I wrote "Fognini looks like the hot member of an ISIS boy band."
Saturday – Kill on Show 1, Get the Death Penalty on Show 2: One of the things I have learned recently is that even as I get better at writing and performing my comedy I will still alienate some crowds, even when I am on my game. Generally it will be a combination of easily offended and mentally dumb that don't get or like me.  Well Show 1 Saturday was NOT that crowd. I murdered as hard as I ever have with that crowd (video clips coming to the YouTube channel soon).  I really had a terrific set and felt great.  I had earlier watched Northwestern upset Stanford on TV (my brother went to NU so they are the college program I root for/follow) and had had another Panera chocolate chip cookie that day so with a great first show the day had the makings of perfection.  Then Show 2 occurred…
I felt good going into show 2. My friend Marie, from law school, showed up with her husband so I thought – "I am killing with strangers – now the crowd has people I know – THIS IS GONNA ROCK."  What followed for the final show of the weekend was nothing short then capital punishment.  Awkward silences to the early litmus test jokes I have (early set jokes I use on the road that always kill so I can gauge the crowd) and then when discussing Latin women and working in the Bronx an audible "Wow… wow" from an unhappy women. That wouldn't be so bad, except that was the only sound.  In 3 of the 4 shows before the laughter may have drowned the feigned shock of this woman, but the late Saturday crowd's silence provided her with an audible spotlight.
The best thing about doing comedy long enough is that you really don't feel badly after a tough set (they did lose it to a 5 minute bit about being blamed for other people's shits in public bathrooms – not surprising).  I think they could tell I felt mentally superior to them, which may have hurt my chances of regaining their affection (which I never actually had).  Oh well, 3 of the 5 shows went great, one went so so and one was a bloodbath (with me as the sole victim).  But it is weird that in the same town, on the same night one crowd of residents can think you are the greatest thing ever and then the very next crowd hates your guts within ten minutes.  But that is how real life has been for me so at least my comedy appears to be true to myself. #Blessed
Off to Los Angeles next week. Stay tuned.
For more opinions, comedy and bridge burning check out the Righteous Prick Podcast on iTunes and/or STITCHER. New Every Tuesday so subscribe for free!