Disney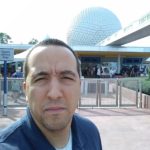 If you follow me on social media (Facebook, Twitter, Instagram – the go to place to follow me if you want the complete photo-humor journey @jlcomedy) then this week was either an embarrassment of riches or a plain old embarrassment as I frustrated my girlfriend for four of our five days to make sure my jokes, photos and experiences in Orlando, Florida did not go unpublished.  The trip was her Christmas present (and after checking my receipts for the trip apparently it will have to suffice as a Valentine's Day, birthday and Trump Impeachment Day presents as well).  The week started with a room on an Amtrak to go down to Florida (for a change of pace and to get me elevated to an elite status on Amtrak – which is like being the best player on a WNBA team – no one cares and you still need a day job) on Tuesday and then would involve among many other things, Epcot Center, multiple days at Universal Studios, 483 encounters with rude South Americans, an Orlando Magic basketball game and a random, private encounter with a television A-lister at my hotel Starbucks.  If I annoyed you on social media this week I don't really apologize because the content was too good not to share.  So here is an epic recap of The Florida Project 2 starring J-L Cauvin.
Part I: Steaks on a Train
We left NYC at 2:15pm for the 3:15pm Silver Meteor train. We were shown to our room on the train by Ismael, a baritone man of apparent Indian descent who referred to me as Mr. Lewis (it is a sign of honor on Amtrak and in India to refer to men by their middle name or by second part of their hyphenated first name) for the remainder of the trip.  The room was nice, we had nice meals and I even managed to sleep 5 hours (in 4 increments) throughout the South (either the bumps of the train or my half-black instincts wouldn't allow me to sleep steady through the deep south at night.  We had steaks for dinner (when you get a room on the train all meals are included so I informed my girlfriend (Laura) that she had to order the most expensive item.  So she got the steak and two glasses of wine, which were not included so I informed her that my services did not include open bar (which made the train-obsessed retiree sitting across from us at dinner laugh (WHY DO I NEED TO REACH MILLENNIALS COMEDY CENTRAL WHEN I CAN CRACK UP THE GREATEST GENERATION???). I then engaged the retiree on a detailed discussion of rail in America, solidifying it as the central campaign issue of my 2024 third party candidacy for the White House.
And the best way to show my room and the flatulent-fueled train neighbors we had is to show you this short video tour of my room sponsored by MTV Cribs:
Part II: The Guitarist That Made an 8 Year Old Boy See God
When we arrived in Orlando we got a Lyft to the hotel, the Doubletree right near Universal Studios.  We showered to get 22 hours of Amtrak off of ourselves and then went out for dinner at Disney Springs a very nice lakeside shopping area.  We ate some seafood, I then got a Ghirardelli sundae (the official kick off of Diabetes Week in Orlando for me) and we sat down to watch some live entertainment.  It was just some open area where a guy with a ponytail was playing guitar.  We sat there for about 30 minutes watching this dude play the ever loving sh*t out of his guitar. And there were several kids dancing to the music, most just trying to make themselves the center of attention (and one couple who danced with their baby strapped to the husband's chest while the wife cell phone recorded the baby and then the both congratulated the 8 month old on how great he was.  But one kid, some 8 year old white kid, may have actually experienced the Holy Ghost during the guitarist's performance. He could not stop dancing and would not let his mom stop him.  But not in a rude douchey kid way, but in a "Mom, do you hear this? So you see this guitar magician? I cannot stop my body from moving!"  It was almost as entertaining as the guitarist, but not quite. It was virtuoso playing with great showman flair.  The guitarist's name was Nicholas Marks (insert romance novel joke here) and he was selling albums after so as an artist who sells merch to varying degrees of success after shows I felt a kinship with Mr. Sparks… and then I completely ignored him after his show like so many of the awkward people I see after my shows. But I did go home and buy two of his albums off of iTunes and have not been disappointed.
Part III: Andrew The Closer, Epcot and the Space Ride for Cucks
On Thursday morning it was time to begin tackling theme parks and first on the list was Epcot Center. But as we were leaving the lobby we were lulled into a casual conversation by "Andrew," who was working for Hilton Honors (the Hilton rewards program). Normally I don't fall for walk-by solicitations, but this photo of Andrew should show you that I was helpless to resist:
Well after Andrew was done talking to us I had purchased a 5 day vacation (granted – it will be 100% reimbursed once I take the trip) and was a member of Hilton Honors.  By the end of the trip I would never NOT see Andrew sitting and getting someone to sign on the dotted line in the lobby. So we made it to Epcot quickly after that, possibly because I was not longer weighed down with several hundred dollars. I will attempt to condense the highlights for you:
We went on a terrific car race ride, a great VR tour of the world called "Soaring"
Toured the nations of the world – true story – when I went to Epcot with my Mom c. 1992 they had "Africa", which has now been replaced with "trading post" which in one way is better and in other ways, really bad since Morocco is the sole representative of Africa (also Russia and India don't have representative stations, which feel like glaring omissions)
Mexico had a great area dedicated to Coco, which was a relief since outside the Mexico area was a welcome featuring Mexican icon Donald Duck in a sombrero.
The Space Simulator Laura and I went on was interesting. We had just eaten lunch and the "Orange" space simulator was supposed to be extremely forceful and intense, whereas the "Green Simulator" was less intense, which we knew because all the audio kept repeating that it was "Green-less intense."  And the progression got insulting as we advanced toward the actual ride. "You have chosen green, less intense," "You have chosen green, you pussy," "You have chosen green, why are you still with him?"  But the green was plenty entertaining so we never felt a need to go to the "orange- congrats on having courage" ride.
Trying to buy t-shirts for my nephews proved somewhat difficult because the selection in many of the stores was so terrible.  When I was a kid there were dozens of t-shirts to choose from, but now it only seemed adults and girls still have an interest in clothing based on the Disney selections available.  Gadgets and toys seem to be all that were available in abundance for boys, so I hope my nephews enjoy their Minny Mouse dresses.
Part IV: Foreigners Feel Like The Worst Time at Universal Studios
Friday was the first day at Universal Studios. There were many highlights – Laura's particular enjoyment of The Simpsons' Ride and accompanying world, the butter beer served in the Harry Potter world (cream soda covered in a sweet, buttery foam) and The Transformers ride were among the highest highlights.  There was also my picture with only Sideshow Bob, which irritated Krusty The Clown, who had been the preferred photo partner in Simpsons Land, but not for me (#HatersUnite).  However, there were some down moments – like being too tall/large to fit into the Harry Potter ride in that section of the park, as well as The Mummy ride. But the heartbreak of having to send Laura on the rides alone paled in comparison to the havoc created on my vacation by ill-mannered, wealthy South American families.
To offer you a glimpse of the rudeness I will present some statistics. The first number is the combined number of unsupervised children walking into me or stepping on my feet, families cutting in front for photos and generally rude incidents. The second number is apologies.
Asians 1/1
White People 3/2
Black People 2/1
South American families – 4577/1
Now I don't know why this is, but by Saturday I started to feel like a combination of a Trump supporter and Ed Norton in 25th Hour. Being from New York City I am used to all types of people from natives to immigrants to tourists. And other than texting while walking being a rudeness epidemic I think the egalitarian nature of NYC's streets and the communal and crowded experience of the NYC subway makes people, for the most part, respect personal space.  But these presumably wealthy South American families seem to have a different experience.  Which is understandable – if you were a fat 70 year old man with a hot 33 year old third wife, wouldn't you feel entitled?  If you were a woman who did not appear to go to the gym, but had purchased an ass and breasts to look like a sexy, fit woman wouldn't you think you are privileged?  And maybe the wealthy in your town or city are truly treated like royalty so it makes no sense that some American couple would expect an apology on the 3rd, 8th or 12th time your chubby prince kicks them or steps on them. Or if a couple is taking turns having pictures with Homer Simpson or Marmaduke and you jump in and take six different photos with various members of your family before the couple can get two, perhaps in your native land people would never dream of even being in the same space as you and it would never occur to you to wait or acknowledge that you had interrupted.  As I said earlier I know these countries are fine and a lot of their people are good, but when it comes to Orlando it appears some good countries are sending their shithole people!
The good news of Saturday was that we rode the Hogwarts Express and I was able to fit into the other Harry Potter ride (though it did malfunction midway which was mildly distressing.  We also went on the Kong Island ride, the Spider Man ride and a Cat in the Hat ride (9 year old me would have liked it), but sadly the Jurassic Park ride was down for annual maintenance.
Part V: Orlando Magic and Greek Freaks
Saturday night we went to the Orlando Magic vs Milwaukee Bucks game.  Tickets were courtesy of a law school buddy, who has season tickets in the wheelchair section (great seats – center court and because they are the wheelchair row they can accommodate handicapable people like me who are discriminated on the basis of height (see e.g. Harry Potter and The Mummy rides).  The game was great – we got to see The Greak Freek (Giannis Ant…) one of the game's top young stars, but perhaps most memorable was the mascot of the Denver Nuggets.  It was Stuff the Magic Dragon's birthday and as a 2 time reigning MVP mascot in the NBA he had several NBA mascots to help him celebrate throughout the game.  Stuff was impressive (handstand in costume on a hoverboard), but the Nuggets mascot was one of the funniest live performers I have ever seen.  I had a ton of fun at the game, which may be because I had no rooting interest except to be entertained.  But I was not done with Greek Freaks.
On Sunday, when I got back from Mass I went to my hotel Starbucks for a green tea. The Starbucks was not busy at all so I got in line behind a nice looking couple – John Stamos and his pregnant wife. I just stood there for 3 minutes while they gathered all their drinks and food items, perhaps for a drive somewhere. I looked at Uncle Jessie a few times and he looked at me several times with the "Is this guy an athlete (former)?"  I wanted to take a picture (which might have made Laura even more jealous than just the story), but I am always uncomfortable asking celebrities for a picture – it feels like an interruption to their day and besides, they were nice enough not to ask for a picture with the #ComedyMogul so the least I can do is reciprocate.
So that was the trip – hope you enjoyed reading this epic. Time to fly home (a relationship cannot survive two 22 hour train rides in one week) and watch my dog Cookie wag her tail at me when she sees me return… and then pee herself whimpering with love when she sees Laura (not a joke). Home sweet home.

The day after Thanksgiving I took my nephew to see Coco, the new Pixar masterpiece about the Day of the Dead in Mexico. It follows one boy's quest to find his great, great-grandfather's spirit and also his love of music, which has been forbidden by his family due to a long simmering resentment towards musical artists.  It is basically Pixar doing a brilliant mash-up of Ghost and Footloose.  My review would be an A or 4 out of 4 stars.  The animation was outstanding, the story was incredibly original (nice to see that Disney actually allows Pixar to do Pixar things once in a while since buying them, instead of another half-baked franchising attempt) and it provided accessible exposition on some of the Mexican culture that was the backbone of the story for an outsider like me.  I cannot vouch for how authentic it was culturally, but after reading articles by the filmmakers who went to great lengths to be accurate, and from the applause after the film ended from the majority Latin sold out crowd, I am guessing they did their homework and executed it well. In fact, Coco is now in my Pixar Mt Rushmore (which also consists of Toy Story (for those pleading for Toy Story 3 to be included, let's just say the TS saga has a spot – it is the only story and franchise to date that Pixar has flawlessly executed, though with Disney shamelessly pushing Toy Story 4 out in a year it shows that they feel the need to cash in and potentially diminish a beautiful ending to the trilogy that would make Six Feet Under's finale writers proud), Finding Nemo and Wall-E).
So other than getting over my disappointment that Coco was not a 2 hour film about Ice-T's wife (the name is for the main character's great-grandmother), it seems like it was a pretty flawless cinematic experience – so what could J-L have to complain about?
Frozen.
Before every Pixar movie that I can remember (and I have seen all but two in the theater – Cars 3 and A Bug's Life being the exceptions) there has been an animated short.  Usually about 5 minutes, and sometimes getting nominated for the Oscar for Best Animated Short, these mini-movies are often testing grounds for up and coming directors for Pixar to showcase or audition their talents in front of receptive audiences.  Well, before Coco, there was a 20 minute (at least), 3 song, mini-movie involving the character from Frozen.  For those of you that don't know Frozen is arguably the most overrated phenomenon that Disney has ever produced.  It was a throwback the The Little Mermaid-The Lion King era of Disney musical movies, but a shallow and weak descendant.  Despite a great song from the wickedly talented Adele Dazeem, most of Frozen left me confused as to why it was such a phenomenon. Maybe cartoons and comic book movies had become so male, and even worse – adult-centered, that it offered a clear girl-focused story, even if weak by comparison to something like The Little Mermaid  or Beauty and the Beast.  So that may explain the success of Frozen, which is fine.
However, it does not explain why Coco required a 20 minute opening act involving Frozen, whose characters are so white, the Snowman almost passes as their black friend.  I only mention race, not because I have a problem with Frozen, which takes place in Scandinavia I think, having a white cast. But I don't think there is anyway to read it other than an animated white co-sign for the first Mexican-centered Pixar film.  They broke every pattern of previous Pixar movies to do so, so the question is not if they did something wildly different for Coco, but why.
Obviously we live in polarizing times. The "President" is a racist and a white supremacist (I am still waiting for him to call out Jimmy Kimmel and Eminem the way he called out NFL players, Steph Curry, LaVar Ball and the mayor of San Juan, PR) and he began his campaign targeting Mexicans.  And there are still many people who support him in this country and I am guessing some of them enjoy Pixar films.  But Pixar, even with Disney's money grubbing abuse, still has a track record of excellence that I think exceeds even that of Stephen Spielberg.  Their films are original, creative and work so well on child and adult levels.  They are all hits, almost universally critically acclaimed (ahem – Cars 2 and 3 please leave the room).  Basically if Pixar makes a movie all they should have to say is, "Hi, we are Pixar. Enjoy."  But for some reason, in the 22 years since Toy Story graced movie theaters, the formula needed to be changed for Coco.  And it was even featured on the posters as if to say, "Hey I know this *whispered* Mexican *end whisper* story may not be the normal Pixar you are used to, but if you give it a chance, you also get a bonus Frozen movie that is so white it will make these Mexicans at least feel like light-skinned, GOP voting Cubans. So come see Ivanka Trump and Taylor Swift sing in the snow!"
There is a benevolent interpretation to this move of course. Disney may recognize the political climate of our country and moviegoers' tendency to ignore stories involving minorities unless they are comic book heroes or played by Denzel Washington or Will Smith. So maybe, taking a practical approach they said "This movie is great. We need to do whatever it takes to get folks to see it, even if it is pandering." I appreciate that and in some ways think that that is good.  But what does it say about this country that either the biggest entertainment studio in America is too insecure or cowardly to let their track record and a new great film speak for themselves or the company recognizes that even in movie going, white people may not support a story that isn't white no matter who is making it.  Because I am pretty sure many of those Latino people in the theater saw Toy Story, The Incredibles and many other Pixar movies with characters that didn't look like them.
I hope Coco is a big success as it deserves to be, but the interminable Frozen movie before it was bad. On many levels.