Albany
This weekend I headed back to Clifton Park, NY for a private party show.  Last year a comedian buddy from Albany invited me up to do the party and it turned out to be a great show (here is last year's recap), so when asked to do it again this year I said yes without hesitation.  There were several similarities to last year (though I did a new 35 minutes out of 40 minutes from last year) so I will try to focus on the different from last year.  I took Amtrak up to Albany which was pleasant and then waited around the station for Frank (the other comedian) to pick me up. And that is where our story begins.
A Storm Gathers
When Frank pulled up he had his 12 year old daughter with him who was going to a different party.  So we were on good verbal behavior (only discussions of soft core pornography). After he dropped her off we went to Starbucks to map out our sets. I had a black coffee and Frank had a citrus mint tea, which I thought could get you beat to death in upstate NY. Obviously there has been some real progress made on social issues (#MAGA).  While we were in Starbucks the Heavens opened up and a ferocious storm was unleashed.  We became concerned for the party. Not that we wouldn't get paid, but that the tent they have for the party would not withstand the storm or that there would a downhill flood (the house and tent area is at the bottom of a decline on the property).  Well, that was the first and last time I underestimated Wayne Manor.
When we arrived at the house the rain had almost fully stopped. And we had underestimated the size of the property. There is a long downward slope to the front lawn and driveway, but it is so big that there is a nice 30 yards of flat land at the end of the front law so even if there was runoff there was enough of a buffer before the area where the tent was.  And not a drop of water inside the large tent.  Well done Dave! (Dave is the owner of the home and Clifton Park's Bruce Wayne). So we dragged all the equipment down to the tent and while Frank set it all up I would look up from my plate of food (delicious chicken!) and ask, with little intention of doing anything, "need help?"  Then it was showtime.
Laughs, Tyattoos and Dessert!
Frank started the show off and did well, despite the DJ ambushing him into starting the show before he was ready (maybe that is karma payback for every time a comedian has started a bar show without people realizing there would be a show where they are drinking). He did well and then I got on.  I did a lot of new material, but my new bit (which needs work) on women with tattoos was a real highlight. Here is a rough approximation of the bit and exchange:
Me: As a mixed race person I am still looking for that type of woman who I can date as a fetish, but also discriminate against by not taking her seriously.  I am thinking tatted up women are that group.  Like just so inked up that it excites me and feels dangerous, but to a level where she definitely cannot have my kids or meet my parents.
Teacher: Iye hyave lots of tyats (trying to replicate the Vermont accent)
Me: Where?
Teacher: Well Iye yam a teacher so Iye cyant hyave visible tyats but my entire sayde is tyattted up!
Me: But I cannot see them so that means you still respect your job and having a normal life.  I am talking about a woman with sleeves and neck tattoos – a level of ink that says "fu*k my future."  That's the level of fetish I am talking about.
*She then showed her substantial thigh tattoo*
Me: Well, give me a second. I am just going to text my girlfriend that we need to see other people.
I ended my set with Trump and then ate 4 mini cannolis and a couple of cookies. With that Frank and I got paid and he drove me to… the Greyhound station.
Greyhound Finale
I got to the Albany bus station at 1030pm for the 11 pm bus.  The bus didn't arrive until 1130pm. I sat down next to a man on the full bus who smelled like the 2 worst smelling African cab drivers formed a super group with the 2 worst smelling Indian cab drivers (NStink?), did a 90 minute Bikram yoga workout and then rented out space in this guy's seat.  Not an exaggeration – my eyes teared up and I had one quasi-gag.  Sadly, the driver was super slow and we arrived in NYC at 215am.  The only thing I am ashamed of is that when I got home and my girlfriend was sleeping peacefully I got into bed without showering despite carrying at least 4 diseases from the Greyhound ride.  But we are still together so unless I run into a woman with sleeves and neck tattoos, nothing can stop us!

Recently it has felt like stand up comedy is less a passion or profession I am pursuing and more an angry Albanian engaged in a blood feud with me. Beyond my usual gripes about the comedy industry (see 90% of my podcast episodes for more specifics) my last few weeks have felt like an installment of the Final Destination film franchise, where Death is determined to stop me from performing comedy.  Last week, after being booked for the Toledo Funny Bone since January I decided to email the club to confirm my spot (it would be the third time performing there, but knowing that the Comedy Grim Reaper is determined to push me back into the full time practice of law I figured that I should confirm just in case).  The response I got back was "Yes, the hotel is the same, but we don't have you until the end of the month." Now this was 27 hours before I was scheduled to leave for Toledo, so I had my round trip train ticket and more importantly had not picked up any day time work for the week (which pays more than a week of featuring, so it was a double whammy). And add on to the fact that I am booked elsewhere when Toledo said they have me.  I will spare you the transcript of my reaction within my apartment to myself after a series of cordial, neutered emails, but the look on my dog's face said "Please just send me back to my abusive trailer park in Kentucky. This "comedian" (even my dog puts air paw quotes around my career) is too angry."  With that preamble, I will now take you to this past weekend's comedy journey in Albany, NY.
The Grim Reaper Strikes Amtrak
In a sequence worthy of its own episode on This Is Us my Friday morning unraveled like the Comedy Grim Reaper was gunning for an Emmy.  I arrived at NY Penn Station at 10:50 am for my 11:20am train.  Well, little did I know that a train derailment in New Jersey had caused havoc (my guess is that it was either the Comedy Grim Reaper or Mr. Glass from Unbreakable testing to see if my comedy will is unbreakable). I will now deliver the news/plot in bullet points:
Wait for news until 1pm
Told at 1pm to take Metro North from Grand Central Station to Yonkers where an Amtrak train was waiting to go to Albany and points north
Take subway to Grand Central and catch the 1:51pm train to Yonkers
Arrive at Yonkers at 2:20pm – told train must wait.
Go to vending machine at Yonkers Station because the Albany-bound trains do not have snack cars (#FindOurSnackCars). Machine eats one of my dollars (cue the This is Us acoustic singer songwriter depressing song)
Train finally cleared to leave at 3:30pm
Arrive in Albany at 5:35pm
Get in cab with 4 other people and forced to ride all over Albany for an hour before being dropped off at the Hampton Inn
(cue even more This Is Us-ish music – get a text from my girlfriend that her brother… wait for it… was on the train that was part of the derailment that set this all in motion – he is OK).
I have sex with Mandy Moore at the hotel.
So with 20 minutes before the start of the first show Thursday I texted my girlfriend saying that I needed to quit comedy.  Most of what happens in comedy makes me angry and that anger can sometimes provide fuel and motivation. But the trip to Albany, coming off of a week of a cancelled gig felt more helpless and pathetic (which, make no mistake about it, it is). End credits.  "Next week on This is Us…"
Great Crowds Save The Day
My mood was almost immediately uplifted once I got to the club on Friday night.  Maybe it was Pavlovian – going near a stage with Guns N Roses playing in the background is as good a set of factors to trigger involuntary happiness in me, but it would be unfair to characterize it that way.  The crowds were really good and generous the entire weekend.  The headliner was John Henton, who most notably played the handyman on Living Single, a show that aired on Fox from 1993-1998, also known as a great time for a young man to discover that Tootie from The Facts of Life was all grown up (the Michael Jordan of "Damn, she's grown!" to Ariel Winter's Crag Ehlo).  They were great laughers and even more importantly great buyers – sold out of all my CDs over the weekend.
The Rest of My Albany Trip
I saw the movie Life (really good).
I am working on new bits towards a 2018 album. Here is a clip of that bit making progress:
And if you do not follow me on social media here is a pic of me seeing one of Albany's prized tourist attractions "Giant, Dirty Pile of Snow"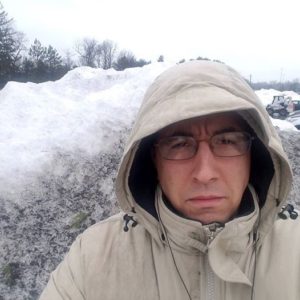 Hartford, CT starting Thursday.  Tell them I am coming.  And Hell's coming with me… (this is from Tombstone, in case you think I am being exceedingly morbid).